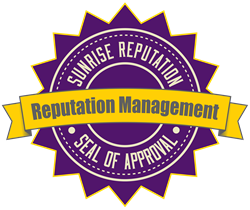 Riverside, CA (PRWEB) July 17, 2014
Sunrise Reputation has announced that they have developed a series of new strategies for use in reputation management campaigns in the Riverside area. The strategies will be employed as part of every reputation management campaign that the company offers, effective immediately.
The company is known throughout the reputation management industry for their uncanny ability to restore positivity to their clients' online reputations through the use of their reputation management campaigns. The campaigns have long used strategies that have been thoroughly developed and tested before they are implemented, which is a major reason why the company believes they have been so successful in the past.
These new strategies that will now be implemented are designed to deliver campaigns that are highly customizable based on the needs of the client, which is somewhat surprising given the fact that the company is already known throughout the industry for providing some of the most individualized services available.
"Even though we have always strived to meet the specific needs of our clients by customizing our reputation management campaigns, we continue to believe that there is always room to improve," said Brandon Hopkins of Sunrise Reputation. "This is why we constantly work to develop new strategies that will allow us to consistently improve the level of service that we are able to provide to our clients."
The Riverside reputation management services available through Sunrise Reputation now include these particular strategies. According to Hopkins, the main function of the new strategies relates to the specificity and speed of the services that the company offers through their campaigns.
"We are very excited that we are now able to offer these services to the citizens of the Riverside area," said Hopkins. "They are very deserving of only the best services that any company has to offer."
Hopkins went on to note just how important it is for reputation management campaigns to yield the best possible outcome. Hopkins believes that the company has a very great responsibility to their clients because of the seriousness of reputation issues.
"Many of our clients are profoundly affected by issues with their reputation," said Hopkins. "It is very important that we are able to offer services that help rectify these issues quickly and effectively."
Sunrise Reputation
Sunrise Reputation was founded with one goal in mind: helping businesses and individuals clean up and maintain a positive online reputation. Sunrise Reputation is an experienced reputation management company that specializes in public relations, marketing, media management, press releases, search engine optimization (SEO) and link building. For more information about Sunrise Reputation or how the company can help you with a reputation problem contact them by phone at 559-871-1613, email brandonchopkins(at)gmail(dot)com, or online at SunriseReputation.com.