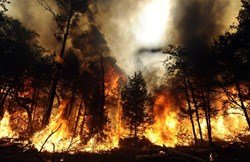 If you're putting your life on the line, you deserve to have the best available fire protection at your disposal.
Phoenix, AZ (PRWEB) November 18, 2013
The SunSeeker Fire Blanket, a new fire shelter, is currently running a crowdfunding campaign to develop a prototype to bring the NASA-based technology to America's firefighters as well as homes and places of business. The SunSeeker Fire Blanket is made from a wool-based ceramic fiber that can withstand temperatures greater than 2500°F without burning or releasing any harmful smoke or fumes. The material, which has been used on NASA spacecraft to handle the searing heat of atmospheric reentry, also possesses the advantages of low heat storage and complete resistance to thermal shock.
Common fire shelters in use today are made of a foil shell that protects only up to 500°F for roughly two minutes. These foil shelters were the same ones used by the 19 Granite Mountain Hotshot firefighters who lost their lives in the Yarnell Hill Fire that ravaged Arizona earlier this year. In that fire, temperatures rose over 2,000°F, making the standard fire shelters no match for the extreme heat. With the SunSeeker Fire Blanket, in the near future, firefighters in a similar position will stand a better chance of survival.
"If you're putting your life on the line, you deserve to have the best available fire protection at your disposal," states Jim Moseley, founder of SunSeeker. "Here we have a better overall fire shelter that is going to give firefighters another three or four minutes of resistance, and can withstand five times the temperature."
In Arizona, the SunSeeker Fire Blanket has received a breadth of attention and press coverage. Moseley, along with Ricky Hunley, former All-American football player at Arizona and now a SunSeeker partner, have been featured in multiple news segments and articles in the Phoenix area. During the news segments, Moseley and Hunley perform on-air demonstrations of the SunSeeker Fire Blanket versus the existing foil shelters, using a 2,000+ degree blowtorch on the new fire blanket with their hands directly under the blanket. Many firefighters are already clamoring to get the SunSeeker Fire Blanket in their arsenal.
The SunSeeker Fire Blanket campaign is looking to raise $150,000 to develop necessary prototypes for testing and deployment. Anyone looking to donate to the cause can receive thank you gifts such as a potholder or chef's apron, made from the same materials as the fire blanket. With enough funding, the SunSeeker Fire Blanket can get into the hands of firefighters in about six months.
To learn more about the SunSeeker Fire Blanket and to donate to the campaign, visit http://www.sunseekerfireblanket.com, Like SunSeeker on Facebook and Follow SunSeeker on Twitter @SunSeeker2500.
ABOUT SUNSEEKER
SunSeeker's purpose is to deliver advanced fire protection technology to address emergency situations and everyday consumer market applications. The high-temperature fire protection and thermal insulation qualities of aerospace-grade ceramic fibers and sprays used by NASA can better protect residential homes, commercial buildings and personal property. SunSeeker has collaborated closely with individuals that have worked with NASA and the National Forestry Service to develop a product with better fire protection than what it currently available, with the ultimate goal of saving lives. To learn more about SunSeeker, visit http://www.sunseekerfireblanket.com.