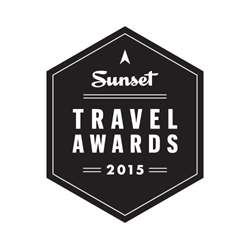 Of course, I hoped we would be selected in one of the categories, but when three of our tourism partners were chosen as top finalists, well let's just say it was a very good day in Glenwood Springs.
Glenwood Springs, Colo. (PRWEB) February 26, 2015
The word is out, and the hot springs adventure town located in the heart of the Colorado Rockies couldn't be more elated. Sunset Magazine, a national travel and lifestyle magazine, recently named a trio of the town's attractions as finalists in its first-ever 2015 Travel Awards. The awards honor excellence and innovation in the tourism industry across 13 Western states, British Columbia and Alberta. Areas of recognition include lodging, dining, cultural tourism, outdoor adventure and more.
The three Glenwood Springs finalists include Glenwood Caverns Adventure Park in the category of Best Family Fun, Glenwood Hot Springs Pool for Best Hotel Pool and Spa of the Rockies for Best Wellness Destination. Each category has been culled to just the top four finalists. Sunset editors and its advisory board will announce the winners in the June 2015 issue.
Lisa Langer, vice president of tourism marketing for the Glenwood Springs Chamber Resort Association said she was aware that three of the town's major attractions were submitting applications for consideration. "Sunset magazine is an international publication with a huge readership. Of course, I hoped we would be selected in one of the categories, but when three of our tourism partners were chosen as top finalists, well let's just say it was a very good day in Glenwood Springs."
Like all the finalists, Glenwood Caverns Adventure Park is in prestigious company. The other three category contenders all hail from California and include Jelly Belly Candy Company, Safari West and Universal Studios. "Wow! I am so proud that Glenwood Caverns Adventure Park is a top-four finalist for the Best Family Fun in Sunset magazine's 2015 Travel Awards. It's truly an honor to be recognized alongside remarkable candidates with strong national branding by such a well-respected magazine. We take our mission of 'Making People Smile' seriously, and it means a lot to be chosen as one of the best places to go for family fun. It means we are doing something right!" said Nancy Heard, general manager of Glenwood Caverns Adventure Park.
Glenwood Caverns Adventure Park is home to a host of thrill rides including America's highest elevation roller coaster, the Giant Canyon Swing and the Alpine Coaster. During the winter months, the park is decorated with a half-million twinkling lights and highlights include lighted thrill rides, fire pits for roasting s'mores, mountain-top dining and more. Year-round the park offers tours of the caverns that range from mild to wild.
Jeremy Gilley, director of sales and revenue for Glenwood Hot Springs and Spa of the Rockies, echoes Langer's and Heard's reactions to the news. "We were thrilled, privileged and a little overwhelmed to be chosen by Sunset as a finalist for the 2015 Travel Awards in not just one but two categories, Best Hotel Pool and Best Wellness Destination. Making the final four cut is a tremendous tribute to our historic mineral hot springs property and our award-winning spa. We are honored to be in the company of other contenders who, like us, place a high value on achieving superior guest experience."
Glenwood Hot Springs Pool is a one-of-a -kind attraction that has been drawing visitors for over 125 years. Its claim to fame is its prolific hot springs and its enormous size. Glenwood Hot Springs Pool is in fact the world's largest mineral hot springs pool! In the category of Best Hotel Pool, it shares the spotlight with Alderbrook Resort & Spa in Union, Wash.; Aulani, a Disney Resort & Spa in Ko-Olina, Hawaii and Tropicana Las Vegas Hotel Casino Resort in Las Vegas, Nev.
The Spa of the Rockies, along with the Glenwood Hot Springs Lodge, is operated by Glenwood Hot Springs which also oversees the pool. Treatments at the Spa of the Rockies focus on wellness and natural health practices, and often incorporate the healing properties of the mineral spring water. Other candidates for Best Wellness Destination include the Terranea Resort in Rancho Palos Verdes, Calif., Vera Via in Carlsbad, Calif., and Waldorf-Astoria Spa at The Boulders in Carefree, Ariz.
Sunset magazine has nearly five million readers. It is published monthly and strives to inform readers about lifestyle topics of interest to those living in the Western U.S. and parts of Canada. Content focuses on travel, food, gardening and design.
About Glenwood Springs
For more information and to book reservations please visit http://www.visitglenwood.com; 888-445-3696. Glenwood Springs is located between Aspen and Vail, Colorado, 160 miles (257 kilometers) west of Denver or 90 miles (145 kilometers) east of Grand Junction on Interstate 70 off exit 116. A press kit, press releases and photos are available at http://www.visitglenwood.com/media. B-roll video footage is available upon request.
Media Contacts:
Lisa Langer, Vice President of Tourism Marketing
Glenwood Springs Chamber Resort Association
970-230-9035
lisa (at) glenwoodchamber (dot) com
or
Vicky Nash, Public Relations Representative
Resort Trends, Inc. – media communications for the travel & tourism industry
970-948-4923
vicky (at) resorttrends (dot) com