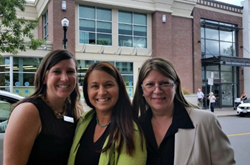 One of the greatest gifts women can give themselves is the opportunity to master public speaking, practice presentation skills and confidently ask for what they need in order to achieve their personal goals
Nanaimo, BC (PRWEB) September 04, 2015
PowHERhouse Performance Strategies is pleased to announce PowHERtalks!
"Success boils down to how well you communicate with others, whether it's two people or 200," said PowHERhouse CEO Charlene SanJenko. "And it's not only what is said, but how it's said. PowHERtalks offers a platform and process that helps women develop a talk, practice it, and secure the support they need to confidently and concisely deliver it. Join us for one of our upcoming six events between October 2015 and May 2016."
"One of the greatest gifts women can give themselves is the opportunity to master public speaking, practice presentation skills and confidently ask for what they need in order to achieve their personal goals," said SanJenko, a successful entrepreneur and Town Councillor for Gibsons, BC. "We believe women's success in business situations can be hindered by the way they communicate to upper management, colleagues, and clients. That's why we're determined to help women with a mission to become more PowHERful speakers."
The PowHERtalks Speaker Series, will be held as follows:

Nanaimo, October 24th: Vancouver Island Conference Centre
Sechelt, November 14th: Chatelech Secondary School Theatre
Vancouver, January 30th: Imperial Vancouver
Squamish and/or Victoria early Spring 2016 tba
Calgary & Toronto: late Spring 2016 tba;
PowHERpod rural community groups encourage virtual connection
Founder and CEO, Charlene SanJenko, PowHERtalks Nanaimo Event Host, Angie Barnard, of the Nanaimo Network Hub and Denise Tacon, Vancouver Island Conference Centre are collaborating on the October 24th kick-off event in Nanaimo.
Nanaimo PowHERtalks will feature 18 speakers – 9 invited and 9 who are selected from submitted applications – who will speak for 9 minutes each.
Invited speakers feature: Louise Mandell, VIU Chancellor; Josie Osborne, Mayor of Tofino; Diane Bernard, Seaflora Wild Organic Seaweed Skincare; Kerry Slavens, Douglas Magazine; Jody Jackson, LGPA Women's Golf & Performance Coach; Carli Travers, new author and mother of 19 orphaned children in Uganda; Steely Springham, Figure Athlete & Confidence Coach; Jamie Munro, Whisper Media; and Sandy Kay, Artist & Creative Facilitator.
Event Information
To purchase tickets or register for a workshop, visit powHERtalks.com.
Enjoy a special PowHERpack opportunity and make a weekend of it!
BC Economic Forum, Vancouver – Friday, October 23rd;
Nanaimo Wine Festival – Friday evening, October 23rd; and,
PowHERtalks Nanaimo – Saturday, October 24th.
Harbour Air, PowHERtalks Transportation Partner, is pleased to offer attendees of the PowHERtalks a special discount off scheduled flights to and from Nanaimo.* Hotel accommodation discounts are also available.
Contact Information:
For further information, 604.741.7985 or talktous(at)powHERhouse(dot)com.
Sponsorship opportunities available.