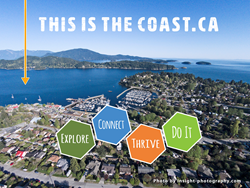 Wouldn't it be cool if somebody was thinking about moving here, or hadn't even really considered the Coast, and they could talk to someone just like them who had moved here in the past 3 to 5 years?
Gibsons, BC (PRWEB) May 21, 2015
What is it really like living on the Sunshine Coast? Why might someone want to move here? What opportunities are available? Funded by local business with content contributions from the community and built by a local creative team, this is the coast is a non-commercial digital campaign telling the story of life on the lower Sunshine Coast, to a younger off-Coast demographic looking for a lifestyle change.
"A group of us came together in November last year including long timers, newcomers, business leaders and entrepreneurs, to talk about what we could do to support a positive profile of the Sunshine Coast", said Richard Hoath, project lead and technical director. "We started by asking recent Coast newcomers about their decision to relocate here and what they would tell people who are thinking about making the move. They shared how and why they chose the Coast, and the experience so far of life here. It became clear that it is about people, community, and lifestyle. So we designed a campaign based around these themes. We have tried to keep focused on telling the story of the Coast in a way that is honest and resonates with our target demographic."
A variety of options were discussed from print advertising to billboards. But the decision was made to go with a purely digital campaign so that the campaign could move forward quickly, in a cost effective and agile way where we can learn from actually seeing how the campaign resonates with the target demographic – in an iterative approach.
"Wouldn't it be cool if somebody was thinking about moving here, or hadn't even really considered the Coast, and they could talk to someone just like them who had moved here in the past 3 to 5 years?" commented Laurie McConnell, digital strategist for the project. "We also thought that the project would be best led by the "geeks" for how it came out, instead of the typical way, which is usually funder-driven."
The result was thisisthecoast.ca, a digital campaign targeted to 30-45'ish year olds, with an honest take on life here on the Coast. A mobile-responsive web site and interactive social media content gives potential new residents a chance to not only read and listen to stories from real people who live and work here in the community, but invites them to reach out and talk to a real life Coaster. "Talk to a Coastie" is an important part of this campaign," Hoath commented. "The approach was to simply tell a story about life on the Coast in the most authentic way possible, and that includes connecting potential newcomers with people who actually live and work here."
In addition to the real-life stories and personal connection, the site is interactive through maps, a self-assessment infographic, and find-my-community quiz.
With the launch of the site on May 13th, the idea is to take an iterative approach to the campaign. "We see this as a starting point to test out the idea and see how this non-traditional approach for community promo connects with potential new coasters," said Hoath. "How we move forward is still a conversation to be had. What we do hope is that this is one of the tools in the Coast's toolkit of attracting and retaining this important demographic to our community."
One of the campaign messaging is around 'Free range living'; as a way of describing the difference between living in the city vs. living on the Sunshine Coast. Sunshine Coasters can share what this means for them by sharing pictures of daily life on Instagram, Twitter or Facebook with the hashtags #freerangelivingSC and #thisisthecoast. This collective story will be shared on http://www.thisisthecoast.ca/free-range-living/
___________________________________________
About this is the coast
This campaign site and social media content is funded by a group of lower Sunshine Coast business leaders and created by a local team of designers, writers, and web developers. Recent and long-time Coasters have contributed their stories, images, and professional work to the campaign. The group came together to share the story of why people love living here in the hopes that other people who connect with the values of the Coast and are looking for a lifestyle change might like to join us.
A video telling the story behind the campaign can be viewed at http://www.thisisthecoast.ca/about
Helpful Links
Website and videos: http://www.thisisthecoast.ca
The story behind the campaign: http://www.thisisthecoast.ca/about
Free Range Living: http://www.thisisthecoast.ca/free-range-living
Contacts:
Richard Hoath, project lead & technical director
604 790-1845 admin(AT)thisisthecoast.ca
Laurie McConnell, digital strategist & social engagement
604 885-5913 social(AT)thisisthecoast.ca