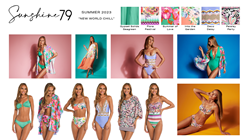 LOS ANGELES (PRWEB) March 20, 2023
Sunshine 79, the new bold and vibrant premium swimwear brand, is excited to unveil its Summer 2023 collection themed "New World Chill." The brand drew inspiration from 70's geos, paisleys, and chevrons, meticulously amalgamated with feminine botanicals and watercolor florals. The collection seeks to ground and embolden the modern women with its focus on paradise sunset shades, including corals, pinks, and sea greens that both energize and connect us to nature.
The Summer 2023 collection reflects the bohemian 70's vibe that Sunshine 79 is known for while adding a modern flair resulting in bold and classic styles that appeal to the fashion-forward shopper. The collection features a wide range of styles and cuts including bikinis, lower coverage bottoms, bandeaus, high-neck tops, midkinis, and one-pieces. Sunshine 79 offers something for everyone, with sizes and cuts designed to flatter all body types.
Sunshine 79 invites customers to experience the vibrancy and head-turning style found in this newest collection, available on their website. Stay updated on new releases and styles by following them on Instagram.
###
About Sunshine 79: Sunshine 79 is a swimwear company that creates bold and expressive designs for any destination. Heavily inspired by the patterns and colors of the 70's, Sunshine 79 seeks to merge the popular looks of this decade with a touch of modern design. They carry a wide range of styles and patterns and regularly release new designs with the coming of each season. Check out their website here.