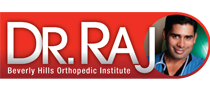 Dr. Raj has now won the Super Doctors Award as a top orthopedic doctor in Los Angeles and Beverly Hills 4 years in a row!
Beverly Hills, CA (PRWEB) January 15, 2015
Beverly Hills orthopedic surgeon Dr. Raj has been named to the Super Doctors list for Southern California. He has received the Award four years in a row based on a strict criteria of 10 indicators of peer recognition and professional achievement. To schedule appointments with Dr. Raj, call (310) 247-0466.
Less than 5% of practicing doctors receive the Super Doctors Award. According to the company website, criteria are strict and based on 10 indicators including:
1. Years of experience
2. Hospital appointments
3. Fellowships
4. Professional activities
5. Leadership positions
6. Academic achievements/positions
7. Board certifications
8. Publications, lectures & presentations
9. Honors and awards
10. Other outstanding achievement
As a Double Board Certified, Fellowship Trained orthopedic surgeon in Los Angeles, Dr. Raj is highly qualified and respected by his peers. He is a medical correspondent for WebMD and ABC News, and the media frequently seeks his expertise for orthopaedic-related opinions (Fox, CBS, ABC, Spike, etc.). Dr. Raj is also an active philanthropist who is involved in treating injured soldiers and combating childhood obesity in LA's inner city. T
For over a decade, Dr. Raj has been treating patients in Beverly Hills and Los Angeles for all types of orthopedic conditions including sports injuries, degenerative arthritis, overuse injuries, car accidents and more. He offers comprehensive nonoperative and operative management including joint replacement, rotator cuff repair, ACL reconstruction just to name a few along with regenerative medicine options.
Regenerative medicine includes platelet rich plasma therapy along with stem cell injections for all types of conditions, either joint related or soft tissue. Dr. Raj has been a pioneer in regenerative medicine, treating high level athletes, celebrities, executives, grandparents, students and manual laborers with the technology. The results have been nothing short of stellar.
Most insurance is accepted at Beverly Hills Orthopedic Institute. Call (310) 247-0466 for more information and scheduling with Dr. Raj.