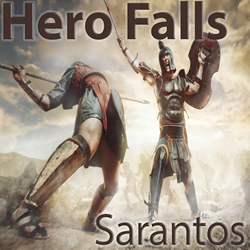 I have decided to start doing a regular Facebook Live session Q & A - first one is on Thursday at 2pm CST on June 16th. Ask me anything you want!
Park Ridge, IL (PRWEB) June 14, 2016
Sarantos Releases a New Music Video For His Super Hero Movie Song 'Hero Falls' & A New Superhero Is Born.
The new single "Hero Falls" lyrics were inspired by movies such as Star Wars, Indiana Jones and Gladiator. For the music video, Sarantos continues a tradition of involving fans and offering them key roles. In this music video, the story originates with a firefighter and the daily struggles of this dangerous profession. This is delicately balanced with a nightime of comfort with the love of his life. There are heroes everywhere however so the 2nd part of the music video tells the story of an everyday person. This average man decides to try and be a hero in the city attempting to fight the good fight. Of course, a homemade superhero costume is donned and the rest is history.
"This super hero song of course needed a superhero in the music video," says Sarantos. "It was so much fun to do. I want to thank the participants and as always, I'm so indebted to my fans for all they do for me. Because they're all I think about, I have decided to start doing a regular Facebook Live session Q & A with them. First one is on Thursday at 2pm CST on June 16th. Ask me anything you want! As Def Leppard once said, 'let's get rocked!' As you know, I'm an open book..."
33% of any music-related sales profits from this song are going straight to Star Wars Force For Change. Philanthropy was very important to George Lucas — used early screenings to raise money for charities around the world with a particular emphasis on children's healthcare and education. Star Wars fans have kept this spirit alive by volunteering their time to countless charities across the world and raising millions of dollars in donations.
Sarantos' unique sound has been best described by industry insiders as an "emotionally powerful vocal style masterfully united with music that is a fusion of classic '80s rock blended with modern soft rock and pop music."
Since 2014, Sarantos has won over 28 awards with Akademia LA Music and Beat 100, while also being nominated for the International Music & Entertainment Awards and the Hollywood Songwriting Awards. Even without ever using a professional music studio, label, ad agency or radio promoters, two songs "Dreamer" & "What If I Never See You Again" have spent many months in the top 200 on the majors list in the US for radio airplay, according to the Digital Radio Tracker Top 200 charts. On the independent charts, Sarantos has hit the top 10 twice.
*Because Sarantos wants music shared throughout the world, fans can always find all songs, lyric sheets, videos and books on the website. Sarantos openly gives everyone the right to share song MP3s with anyone via email or any social media platforms.
Fans can sign up for the email list to get the inside scoop first and exclusive content available nowhere else.
Facebook:
https://www.facebook.com/Sarantosmelogia
iTunes & Apple Connect:
http://bit.ly/SarantosAppleStore
Spotify: