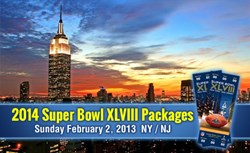 I can't see the prices dropping much lower, the population base in the region is just too strong ...
East Rutherford, New Jersey (PRWEB) January 09, 2014
Many websites like StubHub and SuperBowlTickets.net experienced a big drop in pricing as of Wednesday for upper level seating locations for Super Bowl XLVIII at MetLife Stadium in East Rutherford, New Jersey. Websites are now showing prices from $2,350 to $2,550 down from $3,350 only days prior. The big price change happened following wild card weekend within the NFL playoffs. Experts attribute the drop in price to the loss of powerful fan bases like Philadelphia, Green Bay, Cincinnati and Kansas City in last weekend's playoff games.
In response to the big decline, Tim Mooney, owner of the New Jersey-based SuperBowlTickets.net said, "I can't see the prices dropping much lower. The population base in the region is just too strong. We can all drive to MetLife Stadium within 2 hours; it's a lifetime bucket list event for NFL fans."
With four of the remaining eight teams based on West Coast in Denver, Seattle, San Francisco and San Diego, this may either be a positive or negative for ticket prices. Mooney said, "It may help our hotel packages that include game tickets, but not exactly sure if it will help game day only tickets."
NFL fans should read "The Truth about Super Bowl Tickets" to understand the buying experience for this type of event. Other news sources has reported the details pertaining the limited number of truly available tickets to the game, seeing the actual allocation below may be a good idea.
"The Truth About Super Bowl Tickets" begins with this breakdown of ticket allocations. NFL league office gets access to 25.2 percent of the available seats. The AFC and NFC Championship teams split 35 percent of the seating locations for fans, sponsors and supporters. The host city team gets 6.2% but in this case, it's divided between Giants and Jets at 3.1 percent each. The remaining 28 NFL teams receive 1.2 percent each or a total of 33.6 percent. Seating Capacity at Metlife Stadium is close to 82,555 including a few thousand standing room only fans.
Fans interested in going to the game should do their research. It is recommended that they buy tickets through secondary market re-sellers, this includes websites like StubHub, and companies like SuperBowlTickets.net. The official release date for NFL Super Bowl tickets to be in hand is January 15 - 20, 2014. At this time, tickets can be delivered to buyers via federal express or other form of fast track-able mail.
Research over the years shows buyers should never use classified websites to avoid being ripped off. If ticket price listed is cheaper than $2,000 per ticket, there is a good chance that buyers are being ripped off.
Additional research and experience shows a great way to attend this event is by purchasing an official Package. Most companies allow customers to pick a hotel near Super Bowl Boulevard in New York City or next to Metlife Stadium and lock in their seating location. These packages also include a pre-game party among other add-ons. Super Bowl Hotel and Ticket package starts at $3,599.00 per person for 2 nights at the Meadowlands Plaza and a game ticket. All types of hotel and ticket upgrades are available.
Super Bowl XLVIII will take place at Metlife Stadium in East Rutherford, NJ and will be contested on Sunday, February 2, 2014 at 6:20 PM EST and televised on FOX with announcers Joe Buck and Troy Aikman leading the way. The Pepsi Halftime Show will feature Bruno Mars and is set to be the most incredible musical performance of the year.
Twitter Nation is on fire this week with most of the fans going crazy about the possibilities of going to the Super Bowl. The following made it to the trending list of the popular social networking site: #superbowl2014, #superbowlxlviii, #nflplayoffs, superbowl, #whodat, #nola, #whodatnation, #saints, #brees, #neworleanssaints, @saints, #colts, #coltsnation, #coltsbuzztap, #MyColts, @colts, #chargers, #chargersnews, #sandiegochargers, #chargersbuzztap, #chargersnation, @chargers, #49ers, #niners365, #49ersfootball, #goldrush, #49ersnation, #sanfrancisco49ers, @49ers, #patriots, #newenglandpatriots, #NFL_PatriotsFan, @patriots, #believeinbrady, #bostonstrong, #panthers, #panthersnation, @panthers, #KeepPounding, #camnewton, #broncos, #denverbroncos, #broncoscountry, #mannyformvp, #milehigh, @panthers, #seahawks, #12thman, #seahawksnation, #seattleseahawks, #gohawks, #beastmode, @seahawks.
Online website vegasinsider.com shows the most recent odds to win the 2014 Super Bowl XLVIII in East Rutherford, New Jersey are:
Seattle Seahawks - 2.5/1
Denver Broncos - 3/1
San Francisco 49ers - 7/1
New England Patriots - 8.5/1
Carolina Panthers - 10/1
Indianapolis Colts - 30/1
New Orleans Saints - 30/1
San Diego Chargers - 50/1
Odds to win 2014 NFC Championship:
Seattle Seahawks - 1/1
San Francisco 49ers - 1.5/1
Carolina Panthers - 6/1
New Orleans Saints - 14/1
Odds to win 2014 AFC Championship:
Denver Broncos - 2/3
New England Patriots - 7/2
Indianapolis Colts - 12/1
San Diego Chargers - 25/1
NFL.com shows the final standings prior to playoffs for each division below.
AFC Division:
Broncos - 13 - 3
Patriots - 12 - 4
Bengals - 11 - 5
Colts - 11 – 5
AFC Wild Card:
Chiefs - 11 - 5
Chargers - 9 - 7
NFC Division:
Seahawks - 13 - 3
Panthers - 12 - 4
Eagles - 10 - 6
Packers - 8 - 7
NFC Wild Card:
49ers - 12 - 4
Saints - 11 – 5
About: http://www.superbowltickets.net is an award winning sports travel company, specializing in custom hotel packages for the Super Bowl at Metlife on Sunday February 2, 2014. Game-day ticket inventory is officially available for sale by calling 1-866-881-5373 and hotel packages with lodging in the NFL Super Bowl Boulevard area are available on a limited basis. Plenty of hotel and ticket options are still available.