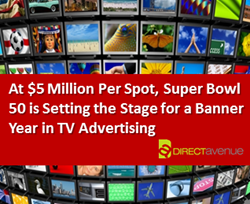 If you think of TV advertising as a high-performance athlete, winning the race for ad dollars in 2015, then the Super Bowl is the Olympics of the industry; a marquis event that reminds everyone why television is the gold standard in advertising
Los Angeles, CA (PRWEB) February 04, 2016
Regardless of who wins on the field during this weekend's Super Bowl 50 – the Broncos or the Panthers - the factors driving $5 million ads during the game are the same factors predicted to drive a profitable year in TV advertising.
Even before this weekend's big game, advertisers have been riding a wave of optimism about TV as an advertising medium.
According to figures just released by Standard Media Index (SMI), broadcast TV ad spending went into 2015 like a lamb but came out like a quarterback-sacking professional football player. While broadcast TV ad spending was down 3 percent in 2015, it jumped 13 percent in the fourth quarter, buoyed by a strong scatter market.
"If you think of TV advertising as a high-performance athlete, winning the race for ad dollars in 2015, then the Super Bowl is the Olympics of the industry; a marquis event that reminds everyone why television is the gold standard advertising, delivering more eyeballs and ROI than any other platform," said Scott Kowalchek, founder and CEO of DirectAvenue, a DRTV media buyer. Kowalchek points out that the cost of a 30-second commercial during Super Bowl 50 sets a new record. The $5 million price tag advertisers are happy to pay tops last year's price of $4.5 million by more than 11 percent. In 2011, the same ad buy would have cost an advertiser $3.5 million. That's a 43 percent increase over five years.
The single biggest reason why brands pay a premium fees for a Super Bowl spot is reach. During the game, a brand can reach more than 100 million people in the United States. This is about one-third of the entire U.S. population and the biggest U.S. television audience of the year. While no TV program will generate even half that number of viewers in 2016, TV remains the primary video viewing platform for adults across all age groups. According to the latest quarterly TV viewing figures released from Nielson. Americans aged 18-24 watched a weekly average of 15-and-a-half hours of traditional TV during Q3 2015. Older Millennials (25-34) watched 21 hours and 10 minutes per week in Q3. Gen Xers (35-49) watched 28 hours and 41 minutes per week, and, Adults aged 50-64, watched 39 hours and 21 minutes per week.
Attention is another factor that plays prominently in the value of the game and the industry. While most people usually tune out advertisers, Super Bowl ads are different; fans get excited to see them and pay attention during the game and long after when different TV news shows rank and compare the "Top Ten Super Bowl Commercials of 2016". Football fans and non-football fans watch Super Bowl ads before and after the game, vote in various polls and share opinions in chat rooms and social media. While attention spans are shrinking for other TV programs (Attention spans have shrunk by over 50% in the past decade), advertisers are responding by shrinking the length of the average commercial. The 15-second ad is increasingly common, gradually supplanting the 30-second spot just as it knocked off the full-minute pitch decades ago. While longer formats are still valuable in niche markets, commercials for the broadest audiences are getting shorter. Super Bowl spots retain the attention of viewers because of the spectacle of the event. In 2016, TV advertisers, with much smaller budgets, will retain the attention of viewers by delivering their brand in a shorter, more rapid-fire format.
Finally, platform is another reason advertisers value the Super Bowl and continue to pay premium prices for TV ads the rest of the year. For most brands, a Super Bowl spot isn't a one-time event; the Super Bowl is the catalyst for a much larger campaign. This year brands will use teaser spots, PR efforts, social media campaigns, celebrities and sweepstakes to engage with consumers, and people will respond. This successful strategy is also being planned by more savvy advertisers for TV ad campaigns in 2016. While cross-platform advertising is a relatively new opportunity created by recent developments in social media, online programmatic display advertising, and programmatic TV, large and small advertisers see the ROI and routinely set aside a portion of their ad budget for these new platforms. Their biggest spend, of course, remains with TV.
These three factors aren't entirely new; they have driven prices in broadcast and able DRTV ads for many years. What is new is that while other advertising platforms are eroding by comparison, the robust TV ad industry, which now embraces all other platform, remains as impressive as a 60 yard field goal during this weekend's Super Bowl. "A lot of sportscasters are speculating this week that Peyton Manning is past his prime and should consider retiring after the Super Bowl", said Kowalchek. "In my industry, I don't know anyone who's retiring anytime soon. We're in our prime and we're going to have an amazing year!"