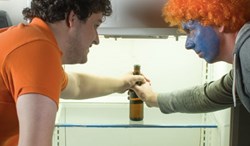 Austin, Texas (PRWEB) January 28, 2014
UPG, a video strategy and production company in Austin, Texas is launching their 2014 Super Bowl commercial. This ad will not air during the Super Bowl broadcast, but like other engaging Super Bowl commercials, this will not prevent it from reaching scores of people thru today's modern online social channels.
The estimated cost for a 30 second commercial during this year's Super Bowl is $4 million, and for good reason. This year's game is expected to reach more than 120 million viewers. But this isn't the only way audiences engage with Super Bowl commercials. In fact, Super Bowl ads rake in hundreds of millions of views via online sharing, mainly thru social media channels like Facebook, YouTube, Twitter and LinkedIn. More importantly, this reach isn't limited to post-Super Bowl fanfare. Already, this year's Super Bowl ads are garnering millions of views more than a week before the big game. This exposure didn't cost $4 million.
Big Idea vs. Big Spend
UPG Video Marketing looks to capitalize on the viral, sharing nature of today's social web with the strength of a creative, engaging video idea.
"There's a great deal of opportunity out there for brands of all sizes to reach an audience, if the content is worth the audience's time. That's why we focus so much on the idea. Let's face it, nobody likes video that sucks," says Ben Cecil, UPG Strategy Director.
UPG's new Super Bowl commercial can be found by visiting: http://www.upgvideo.com/blog/post/super-bowl-ad-2014-upg-video-marketing-super-bowl-commercial.
About UPG Video
UPG is a video strategy and production company that tells stories that drive demand. Stories that communicate the value of a service, product, culture or experience. Stories that build a bigger picture narrative. Stories that a make up a strong, measurable video strategy.
For more information, visit http://www.upgvideo.com/.