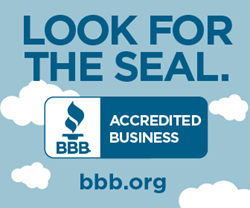 With all the hype comes pent-up demand, which means fans will spend a lot of money to support their team and scammers will be right on their heels.
Santa Clara, CA (PRWEB) January 29, 2016
Super Bowl 50 is just around the corner, and the state of California and the San Francisco Bay Area are proud to play host at the brand new Levi's Stadium in Santa Clara.
"With all the hype comes pent-up demand, which means fans will spend a lot of money to support their team and scammers will be right on their heels to take advantage of them," says Steve McFarland, CEO of BBB of Los Angeles and Silicon Valley.
An estimated one million people are expected to visit San Francisco during Super Bowl week, with well over 70,000 planning to attend the game. Criminals tend to follow big events, and no event is bigger than the Super Bowl. Whether it's buying tickets and merchandise or renting a place to stay, the potential for fraud is huge. The BBB wants everyone to enjoy the festivities, so here's a super list with super tips to keep you super safe during the Super Bowl.
Tips for ticket purchases

Check out the seller/broker on bbb.org first to see their history of complaints, customer reviews and any advertising concerns. Check to see if they are a member of the National Association of Ticket Brokers (natb.org). NATB members offer a 200% guarantee on tickets that don't arrive in time for a game, concert or show.
Know the difference between a ticket broker (a legitimate and accredited reseller) and a ticket scalper (an unregulated and unlicensed ticket seller).
Check the ticket broker's refund policy. Only buy from a ticket reseller that provides clear details about the terms of the transaction.
Always use a credit card so you have some recourse if the tickets are not as promised; you can typically dispute charges. Do not pay with cash.
Check out the seats ahead of time. You can find a seat map of Levi's Stadium online. Always ask for section, row and seat number to avoid obstructed view seats or seats that don't exist. Also, feel free to ask questions to make certain you get all the answers you need to feel comfortable with your ticket purchase.
If you believe you have purchased a counterfeit ticket, immediately report it to the NATB's hotline at 630-510-4594 and file a complaint at bbb.org.
Tips for renting a place to stay
Do your homework. Consider using a trustworthy rental agent to locate a home rental. If you decide to use a third-party website, check them out first at bbb.org. Also check to be sure that the house or apartment in question can legally be rented for a short stay. Ask the rental agent or homeowner to verify this with written proof. You can also check with the local Department of Consumer Affairs or Attorney General's Office.
Make sure there are multiple interior and exterior photos to view. Research the property on your own and take a virtual tour of the surrounding area using online maps with satellite or street view features. Don't be hesitant to ask plenty of questions about the property.
Check reviews and references. Larger booking websites that list professionally managed properties will often have reviews. If possible, get references and talk to previous renters yourself. You can also do an online search for the property owner's name and words like "complaints," "fraud" or "scam."
Get it all in writing. Be sure that all verbal agreements are included in the rental contract, including: details on the deposit, rules on pets, refunds, what's included in the cost of the rental (e.g. utilities, internet, kitchen gear and cleaning service). Read the agreement carefully to understand all fees that may apply, obligations that may be required of you, conditions you must accept, what your rights and protections under the contract will be, and which state laws govern the agreement.
Use a secure form of payment. Don't send money until you've signed the rental agreement, and never pay with cash or wire money. When possible use a credit card, which provides some amount of consumer protection. Some homeowners may not accept credit cards. Use even greater caution and check references carefully if you are considering this type of rental.
Manage your expectations. A home rental is not a hotel, so you can't expect the same level of professionalism, cleanliness or modernization. However, be sure it meets fire and safety codes necessary for the type of dwelling. Some companies will guarantee that the property meets your expectations. If a guarantee isn't being offered, consider purchasing travel insurance.
Tips for renting out your property
Check out the rental company with BBB before providing any personal information or paying a fee. Read customer reviews for the experiences other consumers have had with the company.
Check with your city to see if there are any regulations on renting your home to Super Bowl visitors. Regulations vary from city to city, so check with city hall where you live.
Remember that just because a business has an attractive website or advertises on Craigslist or another familiar service, that's no guarantee. Check out the business for yourself.
Get everything in writing from the company helping your rent the property.
Do not pay any upfront fees through a wire service. A number of different scams entice consumers to pay fees upfront by wire and consumers end up losing their money. This could happen with upfront fees to phony home rental services.
Require a damage deposit from the renter and have a signed rental agreement that states how any damage or theft will be handled.
Be clear on what services are provided. Renters may expect extra services such as maid service.
Finally, decide if it's worth it. Consider whether the potential income from renting your home is worth having strangers in your house who may be drinking, smoking and using your personal space with little or no control over what's going on.
Tips for buying merchandise
Shop at a team store or a reputable store in your neighborhood, or buy it from the NFL at http://www.nflshop.com/.
Beware of suspicious looking URLs. Most websites selling cheap replica jerseys will look official. They'll try to reel you in with flashy images and "sale" prices.
What you see is not what you get and you could end up with a poor quality garment that won't last very long.
Some websites exist solely to phish for your personal information. They'll mimic popular merchandise sites and ask for your credit card information. Make sure to check the URL to be sure the site you are on is the one you intended.