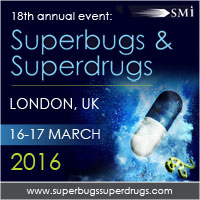 "A timely opportunity to discuss on-going challenges and lay the foundation for innovations that will enhance the security and R&D projects for novel therapies in anti-invective's" - Superbugs Chairs for 2016
London, England (PRWEB UK) 24 November 2015
SMi's established conference on Superbugs & Superdrugs returns to central London next March, providing a focal point for the industry to tackle the serious global threat of antibiotic resistance. Now in its 18th year, highlights will include a keynote presentation from the European Commission.
The address will be delivered by Dr Line Matthiessen, Head of the European Commission unit on "Fighting Infectious Diseases and Advancing Public Health". Entitled: Fighting Global Epidemics and Progressing Public-Private Partnerships, the presentation will provide an overview of the EU's action plan on antimicrobial resistance (AMR) with further insight into practical support for research and development.
Tackling the major bottlenecks that hinder development of new antimicrobial drugs through interactive debate, keynote addresses and case study driven presentations, the fresh agenda for Superbugs and Superdrugs 2016 promises to find workable solutions to strengthen drug development in antibiotics.
Other event highlights will include:

An update on new funding initiatives and US National plans to combat AMR by BARDA
A keynote on antibiotic alternatives with a forecast into the next decade
New insights of pathogen – host interactions and the EU project "INFECT"
A interactive panel debate on industry challenges with a focus on field based testing, cost efficiency of multifaceted infection control programmes and regulation
Strategic guidance on building a pipeline and framework for developing
For those who are interested in registering there is currently a £400 discount available online which expires on 30th November.
For further information and to see the full speaker line-up, visit the website at: http://www.superbugssuperdrugs.com
Superbugs & Superdrugs: 16-17 March 2016
Pre-Conference Workshops: 15th March 2016
Holiday Inn Kensington Forum, London UK
---end---
About SMi:
Established since 1993, the SMi Group is a global event-production company that specializes in Business-to-Business Conferences, Workshops, Masterclasses and online Communities. We create and deliver events in the Defence, Security, Energy, Utilities, Finance and Pharmaceutical industries. We pride ourselves on having access to the world's most forward thinking opinion leaders and visionaries, allowing us to bring our communities together to Learn, Engage, Share and Network. More information can be found at http://www.smi-online.co.uk