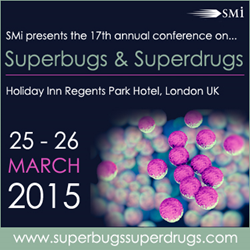 "Attendees can expect to learn more about how to partner with BARDA, the strategic priorities of the Broad Spectrum Antimicrobials program, and new government initiatives that members of our team have been a part of" - BARDA
London, United Kingdom (PRWEB UK) 23 February 2015
In recent weeks a new report commissioned by the UK government called for global investment and greater support for researchers in the race for a new antibiotic superdrug. In the United States, health experts warned that financial encouragement and a more flexible regulatory approach was needed to persuade drug companies to address the issue of antimicrobial resistance.
Set to take place on 25th & 26th March in Central London, Superbugs & Superdrug's 2015 will bring together a global audience of pharmaceutical companies, scientific pioneers, academia, industry associations and venders. It will strengthen knowledge in the progress of the latest antibacterial therapies as well as play host to a panel debate on optimising clinical development.
Effective industry incentives, the practicalities of antibiotic alternatives and pricing strategy will be a major focus, as will hearing from a selection of government bodies and investors who will be providing guidance on partnership and funding opportunities to aid drug discovery.
The Branch Chief of BARDA's Broad Spectrum Antimicrobial's Program, Dr Melissa Stundick, who will be presenting a keynote address discussing recent US government initiatives, said:
"Attendees can expect to learn more about how to partner with BARDA, the strategic priorities of the Broad Spectrum Antimicrobials program, and new government initiatives that members of our team have been a part of...Incentives are essential to rebuild and sustain the antibacterial pipeline. BARDA has historically provided 'push' incentives by defraying the total research and development cost of bringing a new drug to market. Feedback from our industry partners has suggested that BARDA's support has been critical to the continued development and success of their antibacterial products."
David Scott, a freelance Licensing and Business Development consultant, who will be running a pre-conference workshop commented:
"The issue of new business models for rewarding new antibiotics is of particular interest, as this seems to be core to the financial viability of future development programmes."
A brochure with a full list of speakers and presentations is available to download online.
A look at some of those who have confirmed their attendance include : ABAC Therapeutics, Actelion, Debiopharm, The European Commission, European Investment Bank, Evotec, Roche, Grifols America, GSK, The Health Protection Agency, MHRA, MGB Biopharma, Office of Health Economics, Public Health England, St George's Healthcare NHS Trust, TranScrip Partners, University of North Texas, Wellcome Trust, plus many more..
For further information or to secure a place, visit http://www.superbugssuperdrugs.com
Superbugs & Superdrugs
25-26 March 2015
Holiday Inn, Regents Park Hotel
London UK
http://www.superbugssuperdrugs.com
---END---
About SMi Group:
Established since 1993, the SMi Group is a global event-production company that specializes in Business-to-Business Conferences, Workshops, Masterclasses and online Communities. We create and deliver events in the Defence, Security, Energy, Utilities, Finance and Pharmaceutical industries. We pride ourselves on having access to the world's most forward thinking opinion leaders and visionaries, allowing us to bring our communities together to Learn, Engage, Share and Network. More information can be found at http://www.smi-online.co.uk