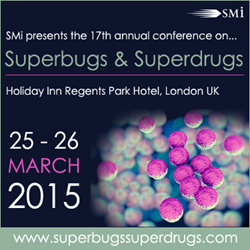 "Well organised conference" – GSK"Very good and engaging speakers" - Merck
London, United Kingdom (PRWEB UK) 30 October 2014
Superbugs & Superdrugs 2015 will ask questions such as: How can new antibiotics be made available at affordable prices around the world? How has BARDA formed partnerships for the development of antibacterial therapies? What are the latest therapeutic developments to meet the global challenge?
Key speakers will include:

Richard Bax, Senior Partner, TranScrip Partners - CHAIR FOR 2015
Jorge Mestre-Ferrandiz, Director of Consulting, Office of Health Economics (OHE)
Shiva Dustdar, Head of Research, Development and Innovation Advisory, European Investment Bank (EIB)
Domingo Gargallo-Viola, CSO, ABAC Therapeutics
Fiona Marston, Chief Executive, Absynth Biologics
Colin J Suckling, Research Professor of Chemistry, University of Strathclyde
David Findlay, Commercial Director of II-ID Global Franchise, GSK
William Weiss, Director of Pre-Clinical Services, University of North Texas Health Science Center
Click here to see the full speaker line-up and agenda
The conference series is well known within the industry and has received positive feedback:
"Well organised conference" – GSK and "Very good and engaging speakers" - Merck
For those who are interested in attending there is currently a £300 early bird discount available online. Further information is available at http://www.superbugssuperdrugs.com
Superbugs & Superdrugs 2015
The latest in antibacterial therapies, fundings and partnerships
25th & 26th March 2015 | Holiday Inn, Regents Park Hotel, London UK
http://www.superbugssuperdrugs.com
--- END ---
About SMi Group:
Established since 1993, the SMi Group is a global event-production company that specializes in Business-to-Business Conferences, Workshops, Masterclasses and online Communities. We create and deliver events in the Defence, Security, Energy, Utilities, Finance and Pharmaceutical industries.
We pride ourselves on having access to the world's most forward thinking opinion leaders and visionaries, allowing us to bring our communities together to Learn, Engage, Share and Network. We hold events in over 30 major cities throughout the world including London, Paris and Singapore and to date have welcomed over 200,000 participants from 80 countries. More information can be found at http://www.smi-online.co.uk