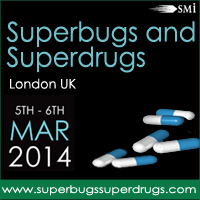 "Good topics, mix of research, clinical development and perspectives." - J&J
London, UK (PRWEB UK) 5 November 2013
SMi's 16th installment in the established sell-out conference series; Superbugs and Superdrugs will take place on 5th and 6th March 2014, London UK.
This event will spotlight on the growing threat of bacterial resistance in a forum which will bring together key industry leaders from big pharma companies, biotech companies, regulatory agencies and academia to discuss the main challenges that pharmaceutical companies are currently facing in terms of funding, antimicrobial resistance, regulation, new technologies and global solutions.
Superdrugs and Superdrugs 2014 will aim to provide attendees with:

The latest updates on Public/Private Partnerships to combat antimicrobial resistance both in the US and in Europe
Presentations on antibody based strategies as a new method to tackle antimicrobial resistance
Discussions on the different therapeutic approaches in fighting Clostridium Difficile Infections, Hepatitis C, Pseudomonas aeruginosa infections and Staphylococci infections
Keynote addresses on topics such as antimicrobial stewardship, nanoparticulate oligonucleotide antibacterials and alternative models for tackling antimicrobial resistance
Key speakers will include:

Richard Bergström, Director General, EFPIA
Line Matthiessen, Head of Infectious Disease and Public Health Unit, European Commission
Joe Larsen, Branch Chief Broad Spectrum Antimicrobial Program, Biomedical Advanced Research and Development Authority (BARDA)
Richard Bax, Senior Partner, TranScrip Partners
James Anderson, European Partnerships Director, GSK
Ralph Minter, Fellow Antibody Discovery and Protein Engineering, MedImmune
Malcolm Page, Head of Biology, Basilea Pharmaceutica
Michael Mourez, Therapeutic Area Leader, Sanofi
Pierre Raboisson, Head of Medicinal Chemistry, Janssen Pharmaceutical Companies of Johnson and Johnson
Chris Longshaw, Associate Director for Microbiology, Astellas Pharma Europe
Chris Hoyle, Economist, Office for Health Economics
Click here to see the full speaker line-up and conference agenda.
Previous installments in the Superbugs and Superdrugs series received positive feedback from the industry including:
"Very well organised conference." – GSK
"Good level of quality." – Janssen
"Very good and engaging speakers." – Merck
"Good topics, mix of research, clinical development and perspectives" - J&J
For further information visit http://www.superbugssuperdrugs.com.
Superbugs and Superdrugs: A focus on antibacterials
5th & 6th March 2014
Holiday Inn Regents Park, London UK