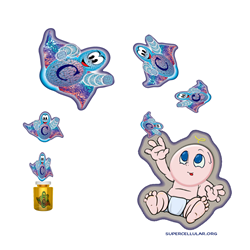 "Super Cellular, the book and this website are essential tools when it comes to helping children get through emotional or health related issues.'GLORYA LORD LANNES's Degrees: Nutritionist M.S. Certified Clinical Hypnotherapist Mast E.F.T. Practiconer
Los Angeles (PRWEB) June 15, 2016
Jill Gatsby and her son Gabriel Gocobachi are the creators of the first healing superheroes. Meet Super Cellular and his tiny team of micro healing heroes. They are featured in a book, a guided imagery and mindfulness website for kids, a series of animated healing videos, and the first healing arcade games designed to help kids get better. Jill and her son Gabriel have been collaborating on Super Cellular since Gabriel was only two and a half years old. A young friend of his had to go in for surgery at City Of Hope, and Gabriel wanted to know why there were no superheroes that could help kids get well soon. That's when he insisted that his mother help him create the first healing superhero, Super Cellular.
The first book, "The Adventures Of Super Cellular" was made in one day and was designed primarily by Gabriel. Gabriel's mother printed a few dozen copies of the book, and brought them to The City of Hope, where she and her son gave them to their little friend and all the other kids on the floor that day. That was in 2008, but Jill Gatsby and her son haven't stopped working on Super Cellular. This year they've released a newer and more up to date Super Cellular Book that is taking guided imagery and mindfulness to a new level with animation and superheroes.
Numerous Clinical Studies report that patients who prepare for medical procedures using mindfulness, guided imagery and self-hypnosis can increase their recovery rates by up to 25% and in some studies up to 50%. Studies also show that guided imagery can be effective in treating nervousness, stress, and anxiety.
"In the last ten years, significant research has shown mindfulness to address health issues such as lower blood pressure and boost the immune system; increase attention and focus, including aid those suffering from ADHD; help with difficult mental states such as anxiety and depression, fostering well-being and less emotional reactivity; and thicken the brain in areas in charge of decision making, emotional flexibility, and empathy."
UCLA MARC Program.
Super Cellular comes recommended by Theodore Thederahn, Ph.D.
(UCLA School of Medicine, Dept. of Biological Chemistry, 1989)
"SuperCellular.org takes the known benefits of cognitive-behavioral therapy and presents it to pediatric patients in terms they can identify with, thus leading to increased therapeutic efficacy when compared to the adult-oriented tools that are most commonly used today. I have seen how recovering children's eyes light up when they first see Super Cellular and they begin to believe that they have a coterie of superheroes working inside them, helping them to recover quickly and completely. The use of images, language, music and games specifically tailored for them to identify with and believe in makes the Super Cellular program unique and effective."
When kids visit http://www.supercellular.org they can watch and download guided imagery videos and play creative video visualization games that work hand in hand with the Super Cellular book. Super Cellular also has healing online arcade games, including; "The Super Cellular Game" and "The Brain Game with Super Celu." Finally, "Bad Cells Be Gone," is a guided imagery video for children, which allows kids to see real cancer cells being transformed into healing light by Super Cellular.
Jill Gatsby has a campaign up on supercellular.org to raise funds to create the first guided imagery Comic Book series with healing superheroes and you can watch the video here. The Super Cellular Website does have an online store with Super Cellular wellness products for sale, and the Super Cellular Book is available on Amazon for $15.