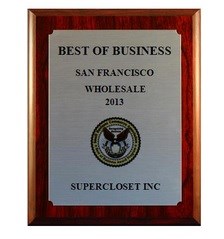 San Francisco, CA (PRWEB) December 12, 2013
The Small Business Community Association recognizes and awards business owners every year because they often do not receive the recognition they deserve. Business owners are role models for everyone whether they know it or not. Small Business Community 2013 Best of Business Award holders are a valuable asset to their community and exemplify what makes small businesses great. Being in business sets people apart from most ordinary people and the Small Business Community is dedicated to helping others understand that running a business is an obtainable goal and that everyone should try their best at living their dreams. Like Apple, SuperCloset was started in the garage in the San Francisco Bay Area and has become the leading indoor growing company.
SuperCloset takes the guesswork out of growing through manufacturing the most innovative and customer friendly hydroponic systems and turnkey grow box units. After 10 years SuperCloset continues to lead the horizontal and vertical growing industry with its commitment to excellent products and world-class customer service. SuperCloset employs 15 people and is based in the heart of San Francisco. Over 25 different products make up the SuperCloset product suite and all are aimed at giving indoor growers the best chance of success their first time growing. Indoor gardening is fun hobby that SuperCloset team enables people to enjoy from all demographics across the United States, Canada and Europe. In addition, the company champions corporate social responsibility as a portion of its profits support non-profits that seek to abolish animal and industrial agriculture and promote sustainable habitats for animals. Check out the published company spotlight in Maximum Yield the industry leading publication: http://supercloset.com/maximum-yield-company-spotlight-supercloset/.
About Small Business Community
The mission of the Small Business Community Association is to promote a vibrant and growing small business community, support education that will preserve and extend the future of small business and use our gifts within the small business community to serve others for the betterment of our world.