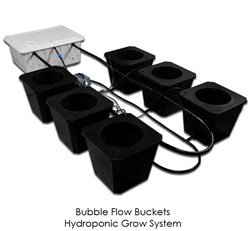 San Francisco, CA (PRWEB) October 16, 2013
The new BubbleFlow Bucket design improvement also features a lower profile package that saves precious growing height for plants. The BubbleFlow Buckets combine both deep water culture and bottom flow hydroponic methodologies that promote even nutrient circulation and eliminates uneven ph and nutrient pockets. The new size larger capacity of the BubbleFlow Buckets encourages greater root expansion and ultimately increases overall yield per plant. In addition, the adjustable connections on the buckets allow for various configurations that can suit any grow space. Because of the custom designed drain valve and tube configuration, the BubbleFlow Buckets drain and fill incredibly easy. Overall maintenance to the BubbleFlow Buckets hydroponics system is minimal and the system can be stacked and moved very easy and efficiently.
In addition, the new BubbleFlow Buckets a very special "upwelling" feature. The nutrients and water are injected into the bottom of each bucket, and then upwells through the roots until it overflows back out the top. This way roots never clog the bottom of the bucket like most other bucket systems, and so that the nutrients rather than falling to the bottom like most systems, are instead flushed up through all of the roots, creating huge massive root beards and world record yields. These are by far the best; most advanced bucket growing system of any on the market and must be seen and grown to believe. They are adaptable as well to fit any growing space.
For pictures and information please go to http://supercloset.com/product/hydro-systems/bubble-flow-buckets-bubble-buckets/
About SuperCloset:
SuperCloset products are perfect for the novice hobbyist through master grower as every imaginable high quality component comes with the grow boxes and hydroponics systems. Because of the excellent layout design and support material included with each system, most SuperCloset customers are up and growing within 90 minutes of receiving their product. SuperCloset takes the guesswork out of growing so their customers can focus on the fun and not the fabrication of indoor gardening systems.