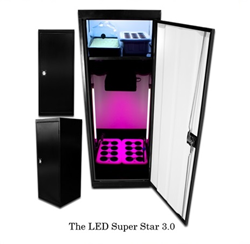 Dennis – August 9, 2013:I love my new Star! This system is whisper quiet, and my ladies love their new home. LEDs are where it's at!
Santa Rosa, CA (PRWEB) June 24, 2014
The LED SuperStar grow box stands at 60"Hx24"Dx24"W and utilizes the KIND LED's proprietary spectrum to flower large yields in tight spaces. These large yields are due to the 3 Watt LED's embedded in the K3 L300's panel.
The KIND LED K3 L300 found in the SuperStar, uses a proprietary 12 bandwidth spectrum that runs cool and quiet on a 700mA current. Heat is dissipated efficiently amongst the over designed heat sinks placed effectively on the 2cm aluminum circuit boards that are the backbone of the Super LED lighting systems. The benefits of the LED SuperStar are immense. The LED SuperStar uses about half of the electricity as the HID light in the standard SuperStar while producing similar luminous efficiency. Because of the reduction of power, the LED SuperStar doesn't need to be air cooled like the standard SuperStar HID light system.
Furthermore, the LED SuperStar lighting system penetrates through the canopy of plants enabling better light coverage all the way to the top of the root zone area. Even more impressive, the LED SuperStar grow box is outperforming competitive LED grow boxes in all areas due to the recent proprietary technological advances. The LED SuperStar grow box and the other LED grow cabinet hydroponic systems are the future of sustainable indoor gardening.
For more information go to http://supercloset.com/product/grow-boxes/superstar-led-stealth-grow-boxes/
About SuperCloset:
SuperCloset products are perfect for the novice hobbyist through master grower as every imaginable high quality component comes with the grow boxes and hydroponics systems. Because of the excellent layout design and support material included with each system, most SuperCloset customers are up and growing within 90 minutes of receiving their product. SuperCloset takes the guesswork out of growing so their customers can focus on the fun and not the fabrication of indoor gardening systems.