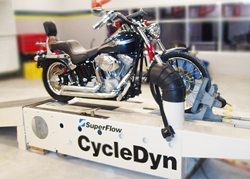 OCONOMOWOC, Wis. (PRWEB) August 30, 2018
Harley-Davidson is celebrating its 115th year of operation in Wisconsin with events all around the Milwaukee area. SuperFlow, a brand of Power Test, Inc., is partnering with a local dealer to showcase how these two companies can work together for riders across the country.
Wisconsin Harley-Davidson, in Oconomowoc, will be celebrating the anniversary with a 5-day event (8/30-9/3) and SuperFlow will join them onsite with an SF-250A CycleDyn. This motorcycle chassis dynamometer, uniquely engineered to support a wide range of Harley-Davidson models, is the industry leading test system that provides real-time data on the performance of your equipment. Riders at the event will be able to test their own Harleys on the chassis dyno to showcase the full capabilities of their bike and earn bragging rights for years to come.
For a $50 donation to Zachariah's Acres, a local charity that supports children with special needs, riders will go through a comprehensive chassis test with an on-site SuperFlow Technician. They will run the bike through a full engine sweep test and verify maximum horsepower as a calculation from speed and torque. After two tests, the rider will be given an event t-shirt with the maximum horsepower their Harley-Davidson displayed on the chassis dyno and they will be placed on the event leaderboard in their respective positions.
The event is a great opportunity to celebrate the passion that Harley riders across the country share with food, drinks, music, and chassis dyno testing.
###
Power Test, Inc. is an industry leader in the design, manufacture, and sale of dynamometers, heavy equipment testing systems and related data acquisition and control systems. For 42 years, Power Test has provided specialized test equipment to manufacturers, rebuild facilities, and distributors in the mining, oil & gas, power generation, marine, trucking, construction, rail, military, and performance markets in over 100 countries worldwide. Our headquarters and manufacturing operations are located in Sussex, WI with sales representatives worldwide.