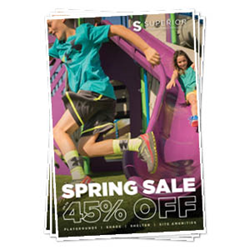 Carrollton, GA (PRWEB) April 17, 2017
The Superior Recreational Products annual Spring Sale will start April 17 and conclude June 30. From playground equipment and outdoor furniture to shade and shelter, customers can save up to 50% off on new products for their community.
From parks and recreation, housing, schools, child care facilities, to zoos and more - virtually any outdoor community can benefit from this sale.
The Spring Sale features:

20% off themed structures
45% off play structures
20% off independent play
20% off shade
50% off sealed standard shelter drawings
20% off site amenities
View the Spring Sale online here!
Find a representative here.
###
Superior Recreational Products is a manufacturer and supplier of playgrounds, shade, shelter, and site amenities. Our products create and provide joy for communities just like yours. We give children an opportunity to let their imaginations soar on the playground. We shade families relaxing on benches at the park. We host group picnics on Sundays. Together, we can create spaces where people can play, relax, and live.