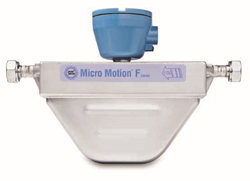 Mass flow metering technology is heavily used in compressed natural gas dispensers, and is long overdue in the propane autogas market.
CLEVELAND (PRWEB) April 09, 2015
Mass flow meter technology newly incorporated into Superior Energy Systems' PRO-Vend 1000, 2000 and Dual Hose propane autogas dispensers delivers more accurate long-term fuel measurement compared with mechanical meters.
The anti-corrosive, stainless-steel Micro Motion Coriolis mass flow meters from Emerson Process Management help reduce fleet operators' costs. The devices require little to no maintenance compared with mechanical meters, and can be replaced less often since they have no moving parts.
With mechanical meters, fuel is "given away" due to fuel slippage. Mass flow meters virtually eliminate unaccounted fuel that slips through the worn moving parts of mechanical meters. Some states require that dispensers be taken out of service for fuel slippage outside of legal metrology allowances.
Superior Energy Systems will introduce mass flow meter propane autogas dispenser technology at the National Propane Gas Association NPGA Southeastern Convention & International Propane Expo, April 11-13 in Atlanta.
"Mass flow metering technology is heavily used in compressed natural gas dispensers, and is long overdue in the propane autogas market," said Jim Bunsey, director of operations, Superior Energy Systems. "Our customers, particularly internationally, have requested this technology, and so we're adding it to several of our top-selling dispensers while maintaining our competitive pricing. It's another way Superior Energy Systems adds value to our customers while reducing their costs."
Mass flow meters work by introducing Coriolis force into the flow stream of a fuel dispenser, then measuring liquid flow by detecting the resulting change in fluid momentum. Mass flow meters are ideal for measuring liquefied gases such as autogas due to the fuel's inherent temperature and pressure fluctuations.
By directly measuring the mass flow, no volume corrections are needed to account for fluid variables. This results in a much more reliable, error-free measurement reading.
The company's autogas dispensers comply with all applicable National Fire Protection Association (NFPA) standards and are listed by Underwriters Laboratories (UL). They also recently gained National Type Evaluation Program (NTEP) certification through the National Conference on Weights and Measures.
In addition to dispensers, Superior Energy Systems also manufactures propane-based bulk plants, rail towers and terminals.
About Superior Energy Systems, Ltd.: For more than 40 years, Superior Energy Systems has supplied propane infrastructure and services. We bring together engineering, manufacturing and construction expertise while focusing on operational excellence and turnkey systems. We build made-to-order propane vaporizers and mixers, portable and permanent rail towers, metering and odorant skids, and propane autogas dispensers. We have manufactured more bulk plants and trans-shipment terminals throughout the United States than any other company. Visit us at our Cleveland headquarters or learn more at SuperiorNRG.com.
# # #