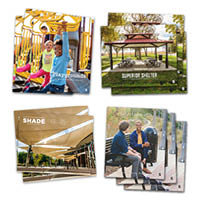 Carrollton, GA (PRWEB) February 03, 2017
Superior Recreational Products (SRP) is excited to announce brand new 2017 Playgrounds, Shade, Shelter, and Site Amenities catalogs. Within the new catalogs, SRP introduces some new and innovative products.
The 2017 Playgrounds Catalog will be supplemented with the Superior Play Events Catalog. The main catalog features pages of real world inspirations, structures, and independent play items. The supplement features playground components, which will aid in finalizing playground designs.
The new Shade Catalog includes Skyspan's waterproof umbrellas in order to provide customers with easy access to both waterproof and mesh shade options in one place.
The Shelter Catalog includes our Lamboo sustainable materials that can be integrated into SRP's traditional pre-engineered shelters.
The Site Amenities Catalog features a new line of bike racks as well as new outdoor furniture, which includes the Bar Height Tables and Chairs, Horizontal Strap Collection, and the Metro Chairs and Coffee Table.
All of our catalogs are packed full of solutions and inspirations to help you achieve the outdoor recreational space you've been imagining for your facility. From playgrounds, benches and tables, shades, pavilions, and bleachers, we have all of your solutions in one place. Browse all of our catalogs now!
About Superior Recreational Products
Superior Recreational Products is a manufacturer and supplier playgrounds, shade, shelter, and site amenities. Our products create and provide joy for communities just like yours. We give children an opportunity to let their imaginations soar on the playground. We shade families relaxing on benches at the park. We host group picnics on Sundays. Together, we can create spaces where people can play, relax, and live.