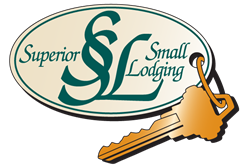 With hotels of 750 to 1000 rooms becoming more common we wanted to explore the impact of adding a few quality properties with 51-75 rooms to the SSL collection
Ft. Lauderdale, FL (PRWEB) May 31, 2016
The Superior Small Lodging Association(SSL), a non-profit association dedicated to promoting the small, independent lodging, announced today that it has created a pilot program allowing 10 properties from 51-75 rooms to apply for membership.
The association, founded in 1989, has traditionally been open only to hotels, inns, B&B's, cottages and condos with 50 rooms or less. The pilot program opens membership to other small, boutique properties that meet the criteria for membership.
"What do we consider small these days?" asks Scott Rivelli, Executive Director of the association. "With hotels of 750 to 1000 rooms becoming more common we wanted to explore the impact of adding a few quality properties with 51-75 rooms to the SSL collection. This pilot program is designed to test the challenges and explore the pros and cons of redefining "Small" to our association. First and foremost SSL's goal and priority is to represent the smaller properties and insure that this program has does not negatively impact the benefits that they currently enjoy."
To be admitted and remain as a member in the Superior Small Lodging Association a property must pass an annual inspection, conducted by an independent inspection company. The inspection focuses on housekeeping, general maintenance of the property and amenities. A member that achieves a perfect score of 100% on the housekeeping portion of the inspection is awarded the Donal A. Dermody White Glove Award.
For those owners whose properties may not reach the level of excellence needed for membership, or who would like to raise their property to the next level, SSL offers a Hotel Improvement Program with mentors in the different aspects of hotel maintenance and management.
Travelers staying at a SSL member property can be assured of the standard of excellence that they are looking for when choosing a place for their vacation, reunion, event or long-term stay. It is no wonder that over 90% of all SSL member properties receive over a 4.0 review score on TripAdvisor with 20% receiving a perfect score of 5.0.
The pilot program will be evaluated at the end of the year. If the program is extended, the limitation on the number of properties between 51 – 75 rooms allowed, presently 10, will be lifted and there will be no restriction on the number of properties allowed in that category. If the program is not extended, those properties that have joined in 2016 will be allowed to remain as members.
About SSL
The Florida Superior Small Lodging Association (SSL) is a non-profit association of independently owned and managed Boutique Inn's, B&B's and hotels throughout the State of Florida with fewer than 50 rooms. Established in 1989 to bring brand awareness to the smaller boutique lodgings as an alternative to the large corporate branded hotel chains, the Superior Small Lodging Brand has come to represent a partnership of unique lodging properties offering a high level of service, comfort and cleanliness at competitive rates. Each year our member's properties are inspected and recognized for meeting Florida's highest quality and service standards. With approximately 180 member properties representing almost 3,000 hotel rooms, time shares and vacation rentals throughout the State of Florida the success of Superior Small Lodging is undisputed.