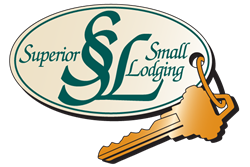 The White Glove Award recognizes those member properties that have achieved excellence in cleanliness and received a 100% score on that portion of their inspection.
Ft. Lauderdale, FL (PRWEB) July 30, 2015
The Superior Small Lodging Association (SSL) announced today that 111 of its member properties have achieved a perfect score in housekeeping during their annual inspection and will be awarded the prestigious Donal A. Dermody White Glove Award for 2015 at the annual convention to be held in Delray Beach, FL in October.
Superior Small Lodging is an association of small, independently owned and operated, Florida hotels, inns, B&B's, cottages and condos with less than 50 rooms and is the answer to the main question on the mind of most travelers when booking a property - "Is it clean?" The association functions as the "Good Housekeeping Seal of Approval" by ensuring that all members must meet or surpass a strict level of excellence in many aspects of hotel management.
A property review inspection, conducted by an independent inspection company, determines whether a property is eligible for membership in the SSLA program. This inspection guarantees that guests will enjoy a clean, safe and well managed small lodging establishment, offering friendly ambiance and personal service.
The White Glove Award recognizes those properties that have achieved excellence in cleanliness and received a 100% score on that portion of their inspection.
"We encourage all our members to review their inspection report very closely and look over their strengths and any possible weaknesses as noted by the inspector. The report is a very valuable tool for our members to evaluate their continued level of excellence." said Scott Rivelli, Executive Director. "It is not a surprise that in 2014 93% of Superior Small Lodging members achieved a TripAdvisor review score of 4.0 and higher – and 19% achieved a perfect score of 5.0".
2015 White Glove Award Winners
Brevard County
Tuckaway Shores
Broward County
Avalon Resort
Away Inn
Bahama Beach Club
Beachside Village Resort
Berkshire Beach Club
Birch Patio Motel
Bougainvillea on the Beach
Caribbean Resort by the Ocean
Carriage House Resort
Casa Del Sol
Coral House
Cottages by the Ocean
Desoto Oceanview Inn
Drift Hotel
Driftwood Beach Club
Ebb Tide Oceanfront Resort
Enchanted Isle Resort
Estoril Paradise Inn
High Noon Beach Resort
Hollywood Sands
Hotel Sheldon
Manhattan Tower
Manta Ray Inn
Marine Villas
Napoli Belmar Resort
Pelican Place Apartments
Pineapple Place
Quality Inn & Suites Hollywood
Riptide Hotel
Sea Downs
Sea Spray Inn
Summerland Suites
Sun Tower Hotel & Suites
Sunny Place
The Coral Reef
The Mint
Tide Vacation Apartments
Tropic Seas Resort
Villa Venezia
Windjammer Resort
Worthington Guest House
Collier County
Marco Island Lakeside Inn
Lee County
Beach Shell Inn
Gulf Breeze Cottages
Lahser House
Legacy Harbour Hotel & Suites
Manatee Bay Inn
Mitchell's Sand Castles
Palm View
Sandpiper Inn
Shalimar Cottages and Motel
Signal Inn
Silver Sands Villas
Tarpon Lodge
Two Fish Inn
Manatee County
Bungalow Beach Resort
Rolling Waves Beach Cottages
Martin County
Caribbean Shores Hotel & Cottages
Monroe County
Lime Tree Bay Resort
Ragged Edge Resort
The Grand Guest House
Palm Beach County
Casa Grandview Historic Inn, Cottages & Suites
Crane's Beach House Hotel & Tiki Bar
Pinellas County
810 Gulfside Resort
Arbor Seaside Cottages
Barrett Beach Bungalows
Bay Palms Waterfront Resort Hotel and Marina
Bayview Plaza Resort
Beach Haven Villas
Beach Side Palms
Blue Moon Inn
Camelot Resort
Cay Pointe Villa
Coconut Inn
Colonial Court Inn
East Shore Resort
Ebb Tide Waterfront Resort
Frenchy's Oasis Motel
Havana Inn
Inn on the Beach
Island Paradise Cottages & Apartments of Madeira Beach
Island's End Resort
Matanzas Inn
Miramar Beach Resort
Page Terrace Beachfront Hotel
Palm Pavilion Inn
Pasa Tiempo Waterfront Resort
Plaza Hotel Beachfront Resort
Sabal Palms Inn
Sand Glo Villas
Sarah's Seaside
Sea Breeze Manor B&B
Sea Chest Motel
Shoreline Island Resort
Summerside Inn
Sun N Fun Beachfront Rentals
Sun Burst Inn
Siesta Key Bungalows
The Birchwood
St. John's County
Bayfront Inn
Inn at Camachee Harbor
St. Francis Inn
Volusia County
Audrey's Beach House
Black Dolphin Inn
Ocean Trillium Suites
River Lily Inn Bed & Breakfast
Seashell's Beach Club
Studio One
Tropical Manor
About The Superior Small Lodging Association
The Superior Small Lodging Association (SSLA) is a non-profit association of independently owned and managed boutique Inn's, B&B's and hotels throughout the State of Florida with fewer than 50 rooms. Established in 1989 to bring brand awareness to the smaller boutique lodgings as an alternative to the large corporate branded hotel chains, the Superior Small Lodging Brand has come to represent a partnership of unique lodging properties offering a high level of service, comfort and cleanliness at competitive rates. Each year our members' properties are inspected by an independent inspection company and those that meet specific cleanliness standards are recognized with our White Glove Award for cleanliness. Excellence in quality and service are also recognized. With approximately 170 member properties representing almost 3,000 hotel rooms, time shares and vacation rentals throughout the State of Florida the success of the Superior Small Lodging program is undisputed and gives prospective guests the comfort of knowing that when they book a Superior Small Lodging property they can be assured of a high standard of excellence.