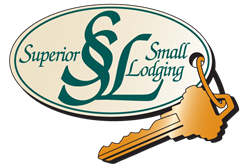 Having the "Seal of Approval" from FSSL lets our guests know that they can have a great experience at our hotel…SSL has inspired me to make my hotel the best it can be
Dania Beach, FL (PRWEB) September 03, 2014
The Florida Superior Small Lodging Association(FSSLA) announced today that the theme of its annual conference will be "Taking Your Small Lodging to the Next Level" and will be focused on helping small independent properties with marketing, hotel management, online opportunities and other information needed to successfully manage a hotel, inn or B&B that the owner or manager of a small property might not have access to on his or her own. This year's conference will be held on October 5th and 6th at the Greater Fort Lauderdale/ Broward County Convention Center and will give the owners of properties with less than 50 rooms the chance to meet with their peers and discuss issues and concerns that are common among small lodgings.
Florida Superior Small Lodging is a non-profit association, founded in 1989, that focuses on the needs and concerns of small hotels, inns and B&B's. Membership in the association is contingent upon passing an annual inspection conducted by an independent inspection company and those properties that receive 100% on cleanliness receive the association's White Glove Award. Guests can be assured that when choosing a Superior Small Lodging property they are guaranteed an authentic Florida experience with high standards of quality, service and cleanliness.
Some of the topics to be discussed at this year's conference are:

How to take your property to the next level
Creating packages to increase incremental revenue
Marketing your property on a small budget
Benefits of attending trade shows
To hear what members of SSL are saying about the association and the annual conference click here
For more information or to register for the conference please contact:
Scott Rivelli, Executive Director at ScottRivelli@SuperiorSmallLodging.com or call: 954-895-4777
About the Superior Small Lodging Association
The Superior Small Lodging Association (SSLA) is a non-profit association of independently owned and managed boutique inns, B&B's and hotels throughout the State of Florida with fewer than 50 rooms. Established in 1989 to bring brand awareness to the smaller boutique lodgings as an alternative to the large corporate branded hotel chains, the Superior Small Lodging Brand has come to represent a partnership of unique lodging properties offering a high level of service, comfort and cleanliness at competitive rates. Each year our members' properties are inspected by an independent inspection company and those that meet specific cleanliness standards are recognized with our White Glove Award for cleanliness. Excellence in quality and service are also recognized. With approximately 170 member properties representing almost 3,000 hotel rooms, time shares and vacation rentals throughout the State of Florida the success of the Superior Small Lodging program is undisputed and gives prospective guests the comfort of knowing that when they book a Superior Small Lodging property they can be assured of a high standard of excellence.