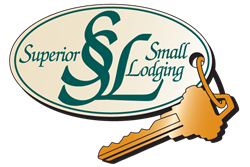 The ability for us to market and brand SSL through LoyalListing.com and our new website and booking engine is very exciting
Dania Beach, FL (PRWEB) October 02, 2014
The Florida Superior Small Lodging Association (SSL) announced today that it has partnered with LoyalListing.com to use its powerful web-based solution to create, manage and automate the direct booking process. Visitors to SuperiorSmallLodging.com will soon be able to book their stay at an SSL member property directly from the new SSL website via a state-of-the-art booking engine with full shopping cart functionality.
"Our partnership with LoyalListing.com gives our members, all small properties of less than 50 rooms, the ability to have a state-of-the-art website, booking engine and campaign management that many would not be able to otherwise attain. The ability for us to market and brand SSL through LoyalListing.com and our new website and booking engine is very exciting", noted Scott Rivelli, Executive Director of SSL.
The Superior Small Lodging new booking engine features:

The ability for guests to filter their search for member properties within Florida by destination, amenity, type of vacation, proximity to a landmark or attraction as well as many other parameters-.
The ability for guests to add multiple bookings into one reservation record. This includes booking multiple rooms with different occupancies for the same or different date ranges.
Multi-lingual/Multi-currency options
The new website and booking engine, still in production, will be revealed to SSL members at their annual conference to be held October 5th and 6th at the Broward County Convention Center in Greater Fort Lauderdale and is expected to go live within the next- month. The conference is open to all proprietors of hotels, inns and B&B's in Florida that have fewer than 50 rooms. For information please contact Scott Rivelli, Executive Director at 954-895-4777.
About The Superior Small Lodging Association
The Superior Small Lodging Association (SSLA) is a non-profit association of independently owned and managed boutique Inn's, B&B's and hotels throughout the State of Florida with fewer than 50 rooms. Established in 1989 to bring brand awareness to the smaller boutique lodgings as an alternative to the large corporate branded hotel chains, the Superior Small Lodging Brand has come to represent a partnership of unique lodging properties offering a high level of service, comfort and cleanliness at competitive rates. Each year our members' properties are inspected by an independent inspection company and those that meet specific cleanliness standards are recognized with our White Glove Award for cleanliness. Excellence in quality and service are also recognized. With approximately 170 member properties representing almost 3,000 hotel rooms, time shares and vacation rentals throughout the State of Florida the success of the Superior Small Lodging program is undisputed and gives prospective guests the comfort of knowing that when they book a Superior Small Lodging property they can be assured of a high standard of excellence.
About Loyallisting.com
Loyallisting.com (http://www.Loyallisting.com.com) is the worldwide leader in online group reservations. The Chicago-based technology company offers hotels powerful web-based solution for managing direct demand and the systems to drive incremental growth. The heart of the Loyallisting.com system is an innovative online booking engine that lets guests make their hotel reservations online via customized interfaces with full shopping cart capabilities, while allowing hotels to access real-time reports and communicate instantly thereby improving CRM. Offered as an onDemand solution, Loyallisting.com delivers benchmark speed, security and scalability.