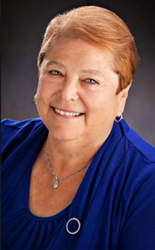 What an honor it has been to partner with the hardest working folks in the business… SSLA has a special place in my heart, since its birth and growth came right out of the industry. Thank you for your partnership
Fort Lauderdale, FL (PRWEB) November 10, 2015
Nicki Grossman, President and CEO of the Greater Fort Lauderdale Convention and Visitors Bureau(GFLCVB) announced her retirement at the tourism bureau's 2016 Marketing Plan Presentation and Luncheon held October 15th at the Broward County Convention Center. She will be retiring on June 1st 2016 after 21 years at the helm of the organization.
Ms. Grossman was active in Broward County tourism issues for more than a decade before taking over her position at the GFLCVB. As a member of the Tourism Development Council and as a county commissioner, among other positions, she came to recognize the importance of the small hotel and lodging to the destination. In 1989 Ms. Grossman, together with Francine Mason, then VP of Marketing Communications at the GFLCVB and Donal A. Dermody, then Professor at Cornell University School of Hospitality, founded the Superior Small Lodging Association (SSLA), an association of small hotels, inns, Bed and Breakfasts and other types of lodging with 50 rooms or less to enable travelers to find those small gems that offer a unique, authentic Florida vacation experience along with the confidence that they would be staying at a property with high standards for cleanliness and guest services.
To ensure superior cleanliness and guest services the Property Review Program was put in place wherein all members must pass a rigorous annual inspection and review process. Members who receive a perfect score in housekeeping are awarded the prestigious Donal A. Dermody White Glove Award. This program is ongoing and is a valuable resource to determine strengths and possible weakness to measure the continued level of excellence for all member properties.
At the invitation of Scott Rivelli, Executive Director of SSLA Ms. Grossman will be giving the keynote address at the Association's annual conference to be held in Delray Beach December 6 – 7, 2015. "I am thrilled and honored that Nicki has agreed to be this year's Keynote Speaker. Though her vision, leadership and continued support, Superior Small Lodging has taken an active role improving the quality of the visitor experience to small lodgings in all Florida destinations for the past 25 years." Stated Scott Rivelli
Under Ms Grossman's leadership Superior Small Lodging has enjoyed a lifelong partnership with the GFCVB and that continued partnership has been assured moving forward.
"What an honor it has been to partner with the hardest working folks in the business. The special relationships you create with guests add so much to their visit. SSLA has a special place in my heart, since its birth and growth came right out of the industry. Thank you for your partnership," stated Ms Grossman.
About The Superior Small 2016 Lodging Association
The Superior Small Lodging Association (SSLA) is a non-profit association of independently owned and managed boutique Inn's, B&B's and hotels throughout the State of Florida with fewer than 50 rooms. Established in 1989 to bring brand awareness to the smaller boutique lodgings as an alternative to the large corporate branded hotel chains, the Superior Small Lodging Brand has come to represent a partnership of unique lodging properties offering a high level of service, comfort and cleanliness at competitive rates. Each year our members' properties are inspected by an independent inspection company and those that meet specific cleanliness standards are recognized with our White Glove Award for cleanliness. Excellence in quality and service are also recognized. With approximately 170 member properties representing almost 3,000 hotel rooms, time shares and vacation rentals throughout the State of Florida the success of the Superior Small Lodging program is undisputed and gives prospective guests the comfort of knowing that when they book a Superior Small Lodging property they can be assured of a high standard of excellence.
About Greater Fort Lauderdale/Broward County
From the seagrass to the sawgrass, Greater Fort Lauderdale, located in Broward County, boasts more than 34,000 lodging accommodations at a variety of hotels, luxury spa resorts, and Superior Small Lodgings reflecting a "beach chic" vibe. Visitors enjoy 23 miles of Blue Wave certified beaches, discover 300+ miles of inland waterways that run from the Intracoastal Waterway to the Everglades, dine at thousands of restaurants and eateries, get immersed in a thriving arts and culture scene and indulge in top shopping.
For more information, contact the Greater Fort Lauderdale Convention & Visitors Bureau at (800) 22-SUNNY or visit http://www.sunny.org. Get social and engage with Greater Fort Lauderdale on social media channels including Facebook, Twitter, Instagram, Foursquare, and Pinterest: @visitlauderdale.