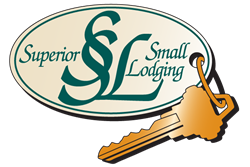 It's all getting done now, so our winter guests will be as comfortable as can be, ready to enjoy their winter stay.
Dania Beach, FL (PRWEB) December 18, 2014
The 170+ hotels, lodges, inns, B&B's, cottages and luxury condos that make up the Florida Superior Small Lodging Association are busy getting their properties ready for the guests that will be flowing in for the high season of February through April and for their yearly inspections which begin in January.
Every member of the Florida Superior Small Lodging Association (SSL) must pass a rigorous annual inspection that includes cleanliness, comfort, amenities and guest services that are conducted by an outside inspection company. Properties must pass in all categories in order to maintain their membership in the organization and properties that achieve a 100% score in housekeeping are awarded the organization's prestigious White Glove Award. It is no surprise that FSSLA members receive wonderful reviews and are at the top of the lists on TripAdvisor and the other review sites.
Updates are going on around the state and range from sprucing up the property with a fresh coat of paint, to sprucing up the interiors with new mattresses and furniture to total renovations. Here's a small sample of what is being done:
Clearwater Beach:
East Shore Resort: We've made a commitment to implement energy conservation practices wherever we can. New energy efficient air conditioners and state of the art tankless hotwater heaters are being installed to conserve energy and improve our guests' experience. Old attic insulation is being replaced and energy efficient LED bulbs were installed. We're installing new moldings, painting, deep cleaning, cleaning all upholstery - it's all getting done now, so our winter guests will be as comfortable as can be, ready to enjoy their winter at the East Shore Resort in Clearwater Beach.
Camelot Resort: is in the process of redoing their entire pool deck with new colors and special sealing. The building is being repainted with a splash of color added to their modern art deco design. Six of their rooms are being remodeled with new furniture and designer colors. Camelot is also adding a Bluetooth WiFi speaker system throughout the common areas and pool. Premium rooms will feature personal Bluetooth enabled speakers for iPhones and Droid application. The rooftop sundeck added new tile flooring and a lighted bar for guests to use for their own entertainment.
Daytona Beach:
Tropical Manor on the Ocean: has updated several of its guestrooms to make them especially inviting and comfortable. The upgraded rooms feature bright and colorful beach or tropical motifs with exceptionally comfortable pillow-top beds, beautiful new bedspreads and unique, decorative touches.
Fort Lauderdale:
Manhattan Tower: has added a new ramp to allow for wheelchair access to the entire property including the dock and grilling area on the intracoastal waterway. A new safety fence has also been added along the entire dock. They have also added an herb garden in their lush pool atrium.
Hollywood Beach:
Manta Ray Inn: has just finished putting in all new luxury beds and has upgraded their daily personalized guest services.
Ocean Drive Villas & Motel: is happy to announce that their extensive renovations will be completed by the end of this month. New tiles and marble flooring have been expertly hand laid in all rooms and new beds, light fixtures and custom designed furniture as well as thermostat controlled air conditioners have been installed in the larger rooms. The kitchens have been given new stainless steel appliances as well as custom granite countertops and hand crafted cabinets. The exterior has been given a makeover as well, with new landscaping, paint and newly designed tents.
Indialantic/Melbourne:
Tuckaway Shores Resort: has given many of its suites new sofas and chairs as well as recently repainting all interiors. Additional landscaping and pool furniture was recently added. In early April all suites will be re-carpeted and the pool will be resurfaced.
Indian Rocks Beach:
810 Gulfside: – This collection of historical cottages has upgraded their windows to energy efficient, low E glass; All cottages were given new roofs, siding and were painted. The outdoor space has been redesigned and the interiors are being updated with new flooring, paint and new furniture.
Sanibel Island:
Waterside Inn on the Beach: has recently been sold to new owners and numerous upgrades are being scheduled for the 2014-2015 season as they are anxious to give the inn their own personal touch. New crushed shell has been brought in to enhance the driveway and public spaces and outdoor eating and barbecue areas are being strategically placed throughout the grounds. The colorful cottages have new large flat-screen TV's in the living rooms and bedrooms and new furniture with tropical décor will soon complete the inside renovations. New pool furniture will be showing up soon.
Check out these and all of the other members of Florida Superior Small Lodging Association at http://www.superiorsmalllodging.com
About The Superior Small Lodging Association
The Superior Small Lodging Association (SSL) is a non-profit association of independently owned and managed boutique Inn's, B&B's and hotels throughout the State of Florida with fewer than 50 rooms. Established in 1989 to bring brand awareness to the smaller boutique lodgings as an alternative to the large corporate branded hotel chains, the Superior Small Lodging Brand has come to represent a partnership of unique lodging properties offering a high level of service, comfort and cleanliness at competitive rates. Each year our members' properties are inspected by an independent inspection company and those that achieve a perfect score are recognized with our White Glove Award for cleanliness. Excellence in quality and service are also recognized. With approximately 170 member properties representing almost 3,000 hotel rooms, time shares and vacation rentals throughout the State of Florida the success of the Superior Small Lodging program is undisputed and gives prospective guests the comfort of knowing that when they book a Superior Small Lodging property they can be assured of a high standard of excellence.