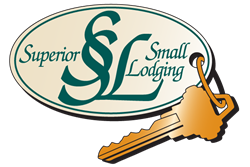 Taking the conference to the Palm Beaches, a destination where SSL has only a few members was the first step in building strategic relationships in that area that will continue our growth and strengthen our association and that of our allied partners
Ft. Lauderdale, FL (PRWEB) December 29, 2015
The Superior Small Lodging Association (SSL), an association of small lodgings across Florida, held their 26th annual conference at Old Schoolhouse Square in Delray Beach, FL. The Schoolhouse, built in 1913, was the perfect venue to host a conference for lodgings that epitomize authentic Florida.
"Taking the conference to the Palm Beaches, a destination where SSL has only a few members was the first step in building strategic relationships in that area that will continue our growth and strengthen our association and that of our allied partners." said Scott Rivelli, Executive Director of the Association.
The theme of this year's conference was "Getting Back to Your Guests through Superior Partnerships" and attendees were unanimous in declaring that it was a huge success. The Mistress of Ceremonies was travel industry speaker and consultant Rozeta Mahboubi; speakers and topics included:

Keynote Speaker: Nikki Grossman, Executive Director of the Greater Ft Lauderdale Convention and Visitors Bureau. Ms. Grossman was instrumental in the formation of SSL in 1989 and has been a very strong supporter of the association since that time. Ms. Grossman was introduced by Jorge Pesquera, Executive Director of Discover the Palm Beaches.
Mike & Pam Grimme, AMC Liquidators: "29 Ways to Improve Room Rates"
Kevin Johnson & Mark Heilig: "How ADA Laws affect Inn Keepers"
Amanda Carvalho & Richard Ochin: "Managing Risk: A Guide to Creating a Safe Workplace & Managing Insurance Claims"
Matthew Gill: "Payment Security for Lodging Businesses"
Dennis Littley: "Social Media for Small Business"
In addition, the Donal L. Dermody White Glove Award for housekeeping excellence was awarded to the 113 member who received a perfect score on the housekeeping portion of the annual inspection conducted by the Property Review Program, an independent hospitality industry inspection company.
About The Superior Small Lodging Association
The Superior Small Lodging Association (SSLA) is a non-profit association of independently owned and managed boutique Inn's, B&B's and hotels throughout the State of Florida with fewer than 50 rooms. Established in 1989 to bring brand awareness to the smaller boutique lodgings as an alternative to the large corporate branded hotel chains, the Superior Small Lodging Brand has come to represent a partnership of unique lodging properties offering a high level of service, comfort and cleanliness at competitive rates. Each year our members' properties are inspected by an independent inspection company and those that meet specific cleanliness standards are recognized with our White Glove Award for cleanliness. Excellence in quality and service are also recognized. With approximately 170 member properties representing almost 3,000 hotel rooms, time shares and vacation rentals throughout the State of Florida the success of the Superior Small Lodging program is undisputed and gives prospective guests the comfort of knowing that when they book a Superior Small Lodging property they can be assured of a high standard of excellence.