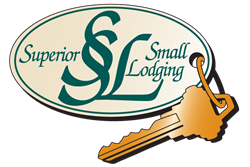 Tourism in Florida has shown growth every year for the past 5 years and all indicators show that 2015 will continue this upward trend.
Dania Beach, FL (PRWEB) December 31, 2014
The unique hotels, inns, cottages B&B's and luxury condos of the Superior Small Lodging Association(SSL) are looking forward to a stellar year in 2015.Tourism in Florida has shown growth every year for the past 5 years and all indicators show that 2015 will continue this upward trend, according to Visit Florida, the state's tourism agency. The 170 members of Superior Small Lodging™ are especially positioned to capitalize on this trend.
Many of the visitors to Florida fit the demographic of the average SSL guest. Many are looking to experience the type of true Florida vacation that they cannot get at the large chain hotels. Since all SSL hotels are individually owned guests at each have come to expect a high level of service and personal care that only a small hotel can offer. In addition, all member hotels must pass a rigous, detailed inspection every year so guests can be assured of a high level of comfort, extraordinary cleanliness and exceptional value.
To get ready for their new and returning guests in 2015 many SSL members have made notable improvements that will delight guests. Examples include:
Crane's Beach House, Delray Beach: The popular, Key West-style boutique hotel has completed the dramatic transformation of four suites into exclusive, secluded high tech luxury villas, each with its own private balcony or patio. This $750,000 renovation started in July and the four new villas are now available for guests. The vision for these villas was to keep the artsy charm of Crane's Beach House while enhancing the 'beach chic' experience with modern European touches. Guests will feel like they have entered their dream vacation home.
Sea Breeze Manor B&B Inn, Gulfport: This Superior Small Lodging winner of BeachLife's "Best of the Beaches" award three years in a row, and voted "Best of the Road" for "Best Romantic Hotel" by Rand McNally/USA Today has just opened La Creperia Café on the Manor's water view balcony and breakfast room. The café specializes in crepes and specialty coffees and brings a little bit of Paris to the area.
Shoreline Island Resort, Madeira Beach: This family owned and managed beachfront resort, on 400 feet of white sand beach, has undergone major improvements. In place of the two oldest buildings is a beautiful new four story structure overlooking the beach for their guests' comfort and enjoyment. In addition, as of January 1st Shoreline will now be a totally smoke free, exculisvely adult hotel, offering amenities like complimentary breakfast and free wi-fi..
About The Superior Small Lodging Association™
The Superior Small Lodging Association™ (SSLA) is a non-profit association of independently owned and managed boutique Inn's, cottages, B&B's and hotels throughout the State of Florida with fewer than 50 rooms or apartments. It was established in 1989 to increase brand awareness to the smaller boutique lodgings as an alternative to the large corporate branded hotel chains.
Over the years the Superior Small Lodging brand has come to represent unique accommodations offering a high level of service, extraordinary cleanliness and authentic Florida hospitality. Taken together, the result is exceptional value and a memorable vacation experience for guests.
Annually, an independent inspection company inspects every member lodging and those that achieve a score of 100% on the housekeeping score are recognized with the White Glove Award for cleanliness. With approximately 170 member properties representing nearly 3,000 hotel rooms and apartments throughout the State of Florida the success of the Superior Small Lodging program is undisputed. The brand name means that prospective guests can book a Superior Small Lodging™ accommodation with complete confidence as owners have chosen to adhere to distintively high standards.