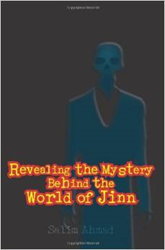 This is the first book to delve beyond mere mythology and conduct a researched investigation into the mysterious world behind our world where the jinn exist
Los Angeles, CA (PRWEB) January 18, 2015
The latest book from Salim Ahmad, titled "Revealing the Mystery Behind the World of the Jinn," is now available on Amazon. The hit book explores many of the mysteries of Islamic theology while sharing the history, background, identity and more of the paranormal being known as the jinn.
"This is the first book to delve beyond mere mythology and conduct a researched investigation into the mysterious world behind our world where the jinn exist," said the author's spokesperson. "The book is impeccably researched and offers readers in-depth knowledge of beings that until now remained shrouded in mystery."
The book explains that the world of the jinn is not a territory that is easy to explore. However, Ahmad, armed with very elementary knowledge of the jinn's world became familiar with the history, background, identity, types, characteristics, habits, and various other aspects of the jinn, which come from a different dimension, but share this same universe with us.
Ahmad, in his book reveals that jinn can be both good and evil. He shares stories of how evil jinn often have negatively affected human history and continue to do so while good jinn have aided humans.
The author draws upon the Quran and other Islamic texts to deliver a compelling and engaging book that dives into the heart of supernatural history, tying in other paranormal topics from cultures around the world.
"Revealing the Mystery Behind the World of Jinn" is a hit with readers of paranormal nonfiction, or anyone interested in this rarely examined topic because it presents a fascinating look at non-traditional, underappreciated religious customs from another culture.
About Revealing the Mystery Behind the World of Jinn
Revealing the Mystery Behind the World of Jinn is a book that explores the mystery of the supernatural being known as the jinn. For more information, please visit http://www.amazon.com/Revealing-Mystery-Behind-World-Jinn/dp/1439203849/