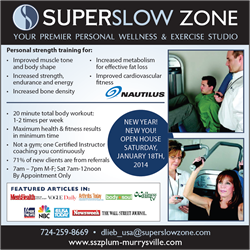 Exercise that works at a fair-priced, attractive location with purposeful, professional staff. - Giles Lieb
Pittsburg, PA (PRWEB) January 07, 2014
SuperSlow Zone, Plum-Murrysville, is a Premier Personal Wellness and Exercise Studio, located in Plum-Murrysville, Pennsylvania. Giles and Dianne Lieb, co-owners of SuperSlow Zone, Plum-Murrysville are energized about hosting their upcoming Open House, "You will have an opportunity to speak with our instructors and get your questions answered about the effectiveness of the certified/accredited 20 minute SuperSlow Zone workout." The Open House will be on Saturday, January 18th, 2014 from 1:00pm-5:00pm.
SuperSlow Zone® provides a by appointment only total body workout supervised by a Certified and Accredited SuperSlow Zone Instructor in a distraction-free, climate-controlled exercise environment, enabling one to exercise in their street clothes. Workouts produce maximum health and fitness results in as little as one or two 20-minute workouts per week. It is a perfect workout. One can get in, get out, and get on with one's busy day.
"Our clients are discerning and busy people. Some don't really want to exercise; some may not have worked out in a while, or ever! We also have clients who like to work out and are looking for a quality experience and results in the least amount of exercise time. All of our clients know they have to do something, so they selected us – exercise that works at a fair-priced, attractive location with purposeful, professional staff," says Giles Lieb, co-owner and Certified SuperSlow Zone® Instructor.
The SuperSlow Zone® Results

Improved cardiovascular fitness and overall health
Greater muscle strength
Increased metabolism
Greater endurance, stamina and energy
Improved muscle tone and body shape
Optimum fat loss while maintaining muscle
Stronger bones
Reduced injuries
Clients looking for a professional service exercise studio will feel at home with SuperSlow Zone® Plum-Murrysville, Pennsylvania owned by long-time community members, Giles and Dianne Lieb. Dianne added, "People may wonder, does it work? Nationally, 71% of new clients come from referrals. Clients come, stay and refer because it works." It is a perfect workout. Additionally, the Lieb's are the SSZ Regional Developers for Western, PA and will be opening twelve additional locations with franchisees. Franchise inquiries are welcomed.
About SuperSlow Zone®, LLC
SuperSlow Zone, LLC is strengthening people, neighborhoods, cities and countries by empowering their clients to be strong, healthy and vibrant – the foundation for a happy life in a rapidly changing, challenging world. The SuperSlow Zone system earns long-term, loyalty clients through exceptional professional, personalized exercise and wellness services. Their expertise and continuous improvements enables clients to sustain maximum results, over time, in minimum time. Clients are at the heart of their system - keeping their bodies and minds robust for a positive, healthy lifestyle.
Dianne Lieb, Co-Owner
Certified SuperSlow Zone Instructor
Regional Developers for Western Pennsylvania
SSZ Plum-Murrysville
Old Frankstown Shops
1800 Golden Mile Highway
Pittsburgh, PA 15239
(724) 259-8669
Hours of Operation:
Mon-Fri: 7am-7pm
Sat: 7am-12pm
Sun: closed
DLieb_USA(at)SuperSlowZone(dot)com
LinkedIn: http://www.linkedin.com/pub/dianne-lieb/83/69/a5
Facebook: https://www.facebook.com/pages/SSZ-Plum-Murrysville/584862251561717