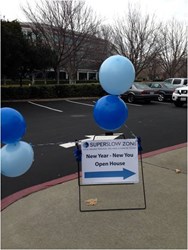 Pleasanton, CA (PRWEB) January 21, 2014
SuperSlow Zone, Pleasanton is a Premier Personal Wellness and Exercise Studio, located in Pleasanton, California. Joanie and Don Svedeman, co-owners of SuperSlow Zone, Pleasanton hosted their open house on January 11th and 15th 2014. Those who attended enjoyed some great food, goodie bags and raffle prizes. Don shared, "It was a wonderful opportunity for visitors to view our studio and ask questions regarding resistance weight training. We would like to thank Dickey's BBQ and Marco's Pizza for their donations for our raffle prizes."
Joanie Svedeman is a Certified Level I SuperSlow Zone Instructor. Joanie has been a successful professional in business. After climbing the corporate ladder, Joanie decided it was time to branch out on her own and has joined Don Svedeman, her husband, as co-owner of SuperSlow Zone in Pleasanton, CA.
Don Svedeman is a Certified Level I SuperSlow Zone Instructor. Don brings his broad experience and enthusiasm to the SuperSlow Zone. Don stated, "I have always wanted to have my own business; however, it had to be something I believed in. After being an active user for several months at the SuperSlow Zone in San Jose, CA, I am definitely a believer!"
The SuperSlow Zone® Results

Improved cardiovascular fitness and overall health
Greater muscle strength
Increased metabolism
Greater endurance, stamina and energy
Improved muscle tone and body shape
Optimum fat loss while maintaining muscle
Stronger bones
Reduced injuries
About SuperSlow Zone®, LLC
SuperSlow Zone is strengthening people, neighborhoods, cities and countries by empowering their clients to be strong, healthy and vibrant – the foundation for a happy life in a rapidly changing, challenging world. The SuperSlow Zone system earns long-term, loyalty clients through exceptional professional, personalized exercise and wellness services. Their expertise and continuous improvements enables clients to sustain maximum results, over time, in minimum time. Clients are at the heart of their system - keeping their bodies and minds robust for a positive, healthy lifestyle.
SuperSlow Zone Pleasanton
Don and Joanie Svedeman
Co-Owners & Certified SuperSlow Zone Instructors
Bernal Plaza Shopping Center
6654 Koll Center Parkway, Suite 100
Pleasanton, CA 94566
Hours of Operation:
Mon-Fri: 7am-7pm
Sat: 8am-12pm
Sun: closed
925-523-3551
DSvedeman_USA(at)SuperSlowZone(dot)com
JSvedeman_USA(at)SuperSlowZone(dot)com