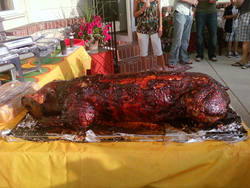 We are honored to give back to the community and the people that have given us so much in the past twenty years by sponsoring this fundraiser for a worthy cause.
St. Louis, MO (PRWEB) March 30, 2016
Super Smokers BBQ, which is celebrating its twentieth anniversary, will be hosting an all-day pig roast event on Friday, April 15, 2016, to benefit St. Louis Men's Group Against Cancer (STLMGAC). "We are honored to give back to the community and the people that have given us so much in the past twenty years by sponsoring this fundraiser for a worthy cause," said Super Smokers BBQ owner Terry Black, who is also a member of STLMGAC, in honor of his father who passed away from colon/liver cancer almost thirty years ago.
The STLMGAC was founded in 1970 by a group of businessmen who wanted to make a difference. The STLMGAC is an independent St. Louis organization that raises money for cancer research, care and prevention for men, women and children. The main fund raisers are the annual dinner in November and the Radiothon in August. Please visit their website for more information http://www.menagainstcancer.net.
As for Super Smokers BBQ, home to St. Louis' only world-champion BBQ team, it was founded in 1996 when Ron Skinner (who passed away in 2003 from complications with prostate cancer) and Terry Black opened in a red barn-looking building that originally belonged to a breakfast chain. Since opening its doors, the applewood rotisserie-smoked BBQ has won numerous awards, including placing in the top 10 nine times at Memphis in May, along with numerous Illinois State Championships. Its BBQ team's best showing was when it won first place for "Whole Hog" at the 2000 International World BBQ Championship in Memphis. They have also been presented the Spirit of Barbecue Award from the National Barbecue News as the "Restaurant Organization of the Year" at the National Barbecue Association Convention.
Super Smokers BBQ helped bring competition-style barbecue to the restaurant industry in St. Louis. It is the first competition team, of now several in the St. Louis region, to open. It is one of the first competition teams (if not the first) in the state of Missouri to venture into the restaurant world, thus causing many to refer to Terry Black as the "Godfather of St. Louis Barbecue." Many of its former employees and associates are scattered all over the market with their own twist on this style of cooking. They even have a page on their website proudly dedicated to their alumni.
About Super Smokers BBQ
Super Smokers BBQ signature dishes include baby back ribs, pulled pork, pulled chicken, beef brisket, smoked turkey, and BBQ nachos. The Super Smokers BBQ Catering team has been serving these items since its inception for a variety of occasions and events to groups and corporations of all sizes. For more information, please call (636) 938-9742, or visit http://www.supersmokers.com. The restaurant is located at 601 Stockell Drive, Eureka, MO 63025.
About the NALA™
The NALA offers small and medium-sized businesses effective ways to reach customers in the digital age, while providing a single-agency source that helps them flourish in their local community. The NALA offers its clients an array of marketing tools from press release campaigns and social media management to a cause marketing program. The NALA's mission is to make businesses relevant and newsworthy, both online and through traditional media, by providing increased exposure at reasonable costs. For media inquiries, please call 805.650.6121, ext. 361.