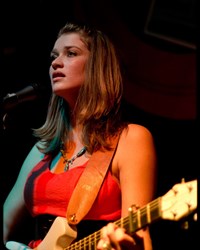 "Vocalist Whitney Lyman's jazzy pop vocals and composer/guitarist Andrew Boscardin's R&B grooves combine to create an original sound that's both modern and reminiscent of the '70s." -AZARIA PODPLESKY, Seattle Weekly
Seattle, WA (PRWEB) August 30, 2013
Supersonic Parachute, a pop and R&B collaboration between composer/producer and guitarist Andrew Boscardin and singer-songwriter Whitney Lyman, releases their eponymous debut album in the summer of 2013. With a "Blondie meets Rihanna" sound, they have managed to deliver a unique musical statement, creating nostalgia that transcends generations and resonates with those who appreciate anything from '60s funk and soul, to classic rock from the '70s and '80s, along with '90s R&B and hip hop. Prior to this project, Andrew, who has been performing and writing music for over 20 years, released his last record in 2011 with his band Zubatto Syndicate, which can often be heard on NPR's All Things Considered. Whitney, a composer, singer-songwriter, and multi-instrumentalist from Seattle, released her first album Wandering, Wondering in 2012.
To build a unique palette for each song on Supersonic Parachute, Andrew and Whitney used vintage synths in combination with a variety of electric and acoustic instruments, reflecting their influences—David Bowie, Stevie Wonder, Beastie Boys, and Journey. The creative process was ultimately two years in the making. "It began as an idea to find a way to work with some friends that I haven't had a chance to make music with before, and evolved into something that I couldn't have predicted. I knew that Whitney would bring something exciting to my music, but her contributions transformed each song completely, taking those initial seeds and ideas and really finding the identity and story of each one."
The twelve-song album was written and produced by Andrew and Whitney, recorded at Avast! Seattle, mixed at Whiney Cat Audio by Adam Burd, and mastered at Aleph Studios, Seattle by Mell Detmer. Other musicians on the album include Tim Carey on bass, Adam Kozie on drums and percussion, and Mack Grout on keys and synths.
You can learn more about Supersonic Parachute at boscology.com.
For more information, images, or to arrange for an interview with Supersonic Parachute, please contact Melissa Zeigler at Powderfinger Promotions: melissa(at)powderfingerpromo(dot)com.
Powderfinger Promotions–Independent Radio Promotion and Publicity. Since being founded in October 1994, Powderfinger has come to be regarded as a top indie radio promotion and publicity firm with ties across North America.