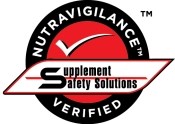 If you are not taking proactive steps to protect product safety, then you're not doing enough.
Bedford, MA (PRWEB) October 30, 2013
Supplement Safety Solutions is proud to announce Nutravigilance℠, a new safety and adverse event surveillance, monitoring and reporting program. Nutravigilance℠, defined as "the science and activities relating to the detection, assessment, understanding and prevention of adverse effects related to the use of food, dietary supplements or medical food," is a comprehensive approach to product safety derived from well-defined principles commonly used in the pharmaceutical industry.
According to the program's co-founders, Dr. Hector L. Lopez Jr. and Dr. Stephen Schmitz, Nutravigilance℠ marks the beginning of a new era of adverse event reporting in which supplement manufacturers are taking the lead in demonstrating their products' safety. The program is described in a recently published peer-reviewed article in the International Journal of Food Sciences and Nutrition, co-authored by Drs. Stephen Schmitz, Hector L. Lopez, Jr. from Supplement Safety Solutions and The Center for Applied Health Sciences. and Douglas Mackay of the Council for Responsible Nutrition (CRN).
"The supplement, natural product, and functional food industries can benefit from increased efforts to demonstrate to their consumers and to regulatory agencies like the FDA that they take their safety responsibilities very seriously," says Dr. Lopez. "Instead of waiting for and reacting to product safety issues, the industry must embrace proactive best practices from other industries and adapt them."
In tandem with the launch of their new program, Supplement Safety Solutions has also launched a Nutravigilance℠ verified seal. Companies in the dietary supplement, natural products and medical foods industry can license the trademarked seal (after meeting specific requirements as defined by the Nutravigilance℠ program) for display on product labels, TV, radio, print and online marketing materials. The seal demonstrates that a company has made a strong commitment to product and consumer safety that exceeds current regulatory standards.
Companies that follow the Nutravigilance℠ program verify that they:

Train their employees to recognize adverse events.
Maintain detailed standard operating procedures for processing and reporting adverse events and product quality complaints.
Identify an appropriately trained "Responsible Person" to interface with regulatory agencies.
Regularly perform signal detection activities to assess ongoing product safety.
Assess relevant scientific and medical literature for safety-related reports.
"If you are not taking proactive steps to protect product safety, then you're not doing enough," says Dr. Schmitz. "That makes you vulnerable to regulatory liability and safety issues, and it decreases the essential dialogue between the consumer and the dietary supplement manufacturer or brand."
Nutravigilance℠ verified companies create high-quality adverse event narratives and reports, regularly search the literature for safety reports related to ingredients found in their product formulation, perform periodic safety signal detection exercises, and summarize the totality of data in annual safety reports.
About Supplement Safety Solutions
Supplement Safety Solutions, LLC is a physician-based consulting company focused on enhancing the safety of dietary supplement and natural foods. Co-founded by Stephen Schmitz, MD, MPH and Hector L. Lopez Jr., M.D., CSCS, FAAPMR, Supplement Safety Solutions provides expert consulting services to nutritional and dietary supplement companies by focusing on safety, compliance and risk management. Drs. Lopez and Schmitz bring more than 20 years of collective expertise as dietary supplement researchers, industry consultants, and safety and quality assurance experts. As advocates for the supplement industry, Drs. Lopez and Schmitz want to help galvanize the field with critical aspects of the business value chain. For more information, visit http://www.supplementsafetysolutions.com.