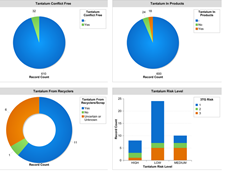 "SupplierSoft has freed our resources to focus more effort on data analysis and due diligence activity" - Peter Clark, Senior Manager of World-Wide Compliance at Plantronics
Sunnyvale, CA (PRWEB) January 28, 2015
SupplierSoft, Inc, a pioneer in cloud-computing based Supplier Relationship Management (SRM) solutions, today announced that Plantronics has chosen and successfully implemented Conflict Minerals Software.
SupplierSoft Conflict Minerals Solution helps manufacturers comply with Conflict Minerals SEC filing requirement as per section 1502 of Dodd-Frank Act. Public US companies must declare whether they have Tantalum, Tin, Tungsten or Gold (3TG) in their products and whether these metals originate from mines in one of nine covered countries in Africa, and if so, whether they are fueling civil conflict in these countries. SupplierSoft automates the Achilles Heel of Conflict Minerals Management, including supplier communication, collecting and validating supplier responses, and analytics so that companies can respond to customer inquiries or do their Form SD SEC filings, while delivering significant ROI. The software supports the industry standard Conflict Minerals Reporting Template (CMRT) created by the Conflict Free Smelter Initiative (CFSI), through partnership with EICC/GeSI.
"SupplierSoft has automated many of the critical processes required to manage the inflow of Conflict Minerals Reporting Templates from our supply chain partners. By centrally managing all supplier communications, performing automated error checks and providing data analytics, it has freed our resources to focus more effort on data analysis and due diligence activity" said Peter Clark, Senior Manager of World-Wide Compliance at Plantronics.
"With the Plantronics win, along with previously announced multiple S&P companies wins, SupplierSoft continues to establish itself as a market leader for Conflict Minerals Software." said Balu Sharma, CEO of SupplierSoft. "We are honored that Plantronics chose SupplierSoft after doing an extensive review of several different software vendors, and is using the software to help manage its 2015 SEC filing."
About SupplierSoft
SupplierSoft Inc, a pioneer in cloud-computing based Supplier Management platform, helps companies automate supplier-facing business processes with a broad suite of Supplier Relationship Management (SRM) Solutions. SupplierSoft was named as Top-10-Companies to Watch by Managing Automation and was named into Force40 Innovation showcase by salesforce.com. The solutions complement and extend ERP systems such as SAP and Oracle by managing supplier processes that are not managed by these systems and deliver rapid ROI. The solutions are built on top of Force.com, an enterprise platform from salesforce.com for building and running business applications in the cloud. According to Gartner, salesforce.com is a Magic Quadrant leader for Enterprise Application Platform as a Service.
Suppliersoft customers include leading edge companies such as Nvidia, Plantronics, Global Power, Maxwell Technologies, KLA-Tencor, Novatel Wireless, and Stampede Global.
About Plantronics
Plantronics is a global leader in audio communications for businesses and consumers. We have pioneered new trends in audio technology, creating innovative products that allow people to simply communicate. From unified communication to Bluetooth® headsets to gaming solutions, we deliver uncompromising quality, an ideal experience, and extraordinary service. Plantronics is used by every company in the Fortune 100™, as well as 911 dispatch, air traffic control and various mission-critical applications for those on the frontline. For more information, please visit http://www.plantronics.com or call (800) 544-4660.
Media Contact:
Balu Sharma
SupplierSoft Inc.
408-384-8095
pr(at)suppliersoft(dot)com