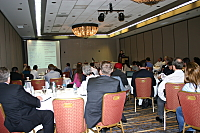 "The conference does a great job bringing together the industry professionals and exposing them to industry trends, market requirements and best practices.", Kareem Dossa of BioCision
Foster City, CA (PRWEB) November 06, 2014
The global community of supply chain professionals in the biotech industry came together on October 23-24 in Foster City (CA) to address the challenges of improving the efficacy, cost-effectiveness and governmental compliance in the global supply chain. Titled, "Advancing the Supply Chain Management of Biopharma", the Conference delivered rare insights into the successful initiatives being undertaken at major biotech companies and discussions to understand change management adopted.
Devendra Mishra, the Executive Director of BSMA, delivered the welcome address and suggested new rules of engagement between biotech manufacturers and their suppliers to reduce cost and lead time and enhance product quality while minimizing risk. "Technology in a Flat World is enabling collaboration for productivity and patient care in ways that are unprecedented, and, consequently, manufacturers must pursue new rules of engagement with suppliers", observed Devendra Mishra. He pointed out that best practices of digital collaboration, data analytics for business transformation and information technology to build automated interfaces are a few relevant best practices from other industries as we attempt to ensure global supply chain integrity while achieving system-wide cost minimization.
A panel of supply chain executives provided a 360° perspective of the formidable challenges faced and solutions being adopted in search of greater efficacy and integrity of the global supply chain of the biotech industry. Franck Toussaint (Managing Director, Biolog Europe, Belgium), Jayant Aphale (Senior Vice President, Technical Operations, Sarepta Pharmaceuticals), Johan Denecke (Senior Director, Global Quality Assurance, Life Science Solutions, ThermoFisher), Kevin Pegels (Vice President, Global Supply Chain, Bayer Healthcare – Biotech), and Susanne Sommerville (Vice President, Supply Chain North America, Roche/Genentech) addressed the critical subjects of serialization, cold chain technologies, clinical services, collaboration for efficiency, integrity in the global supply chain and emerging markets. Jennifer Parkhurst, Partner at PwC, moderated the panel discussion.
Are you Ready for Supply Chain Segmentation for Greater Profits and Service? was the question posed by Rayne Waller, Vice President of Global Supply Chain at the $18.7 billion biologics supplier Amgen. He described Amgen's Supply Chain Segmentation project on his Journey to 2022. Responding to internal drivers of international expansion and complexity of supply requirements, maturity and imminent patent expiration of commercial products, continued margin improvement and net expense reduction efforts, and greater understanding and increased focus on mitigating supply risk, the company has embarked on a plan to deploy demand driven value chains segmented based on market characteristics. Waller stated, "The objective is to create an end-to-end segmented supply chain to improve profitability through strategically balanced flexibility and efficiency where the end-to-end supply chain is defined as information and physical flows related to PLAN, SOURCE, MAKE and DELIVER and related SUPPORT activities. Segmentation simplifies supply chain complexity by grouping products and customers with similar attributes into segments." He emphasized, "A segmented supply chain provides Amgen the platform to support growth in new and existing markets. Segmentation can unleash value for Amgen by optimizing operating expenses and working capital".
"Building Information Systems to Support Strategic Sourcing from Scratch" was a comprehensive success story told by Mary Kachinsky, Senior Director of Strategic Sourcing at Cubist Pharmaceuticals. Kachinsky described the challenges faced when the executive first joined Cubist with no systems and tools to understand the spend and to be able to identify opportunities for strategic sourcing, cost reduction, supplier optimization and/or supplier management. She observed, "Sourcing Tools should support sourcing and procurement process, help drive transparency internally and externally, create a repeatable workflow for all stakeholders and help drive savings. Value comes from making the process repeatable and transparent. It is a Journey!" Based on a market assessment against Cubist's requirements, tools from Zycus and Ariba were implemented.
Richard Prosise, Operations Manager at Bayer Healthcare, presented the "Emerging Trends with Medical Devices in Biotech" where drug delivery/medical devices are being integrated with the packaging of biotechnology products. He explained, "When manufacturers add drug delivery devices as part of their primary packaging, it is classified as a combination product. Medical Devices are emerging in biotech to avoid the common needle sticks (safety) when administering the medicines to save the time of care-givers and patients (convenience) – Many devices have fewer steps". He further clarified that Biotech products are susceptible to degradation by many factors and require rigid packaging for stability. This packaging is traditionally a vial/stopper/flip top cap. The device must be compatible with the drug product and human factors studies must be performed where the device suppliers must be ISO 13485 certified. The device must be CE marked and/or 510(k) registered and approved and licensed for the market in which is distributed. Finally, risk management must be performed according to ISO 1497.
"The Drug Supply Chain Security Act (DSCSA): At the Cross Hair" proved to be a timely report delivered by Chip Meyers, Vice-President of Corporate Public Affairs at UPS. Last November, President Obama signed the Drug Quality and Security Act. Title II, the Drug Supply Chain Security Act (DSCSA), requires the Secretary to establish federal guidelines for licensing wholesalers and third-party logistics providers (3PLs) and the development of an interoperable "Track and Trace" system that pre-empts existing state pedigree laws. Presentation will provide an informative update and timeline assessment for these new requirements, focusing on the initial efforts with FDA, supply chain stakeholders, and Congress to achieve the interoperable "Track and Trace" system as well as touch on an International perspective and global challenges. Enacted November 2013, the Law requires that Manufacturers start serializing product 4 years after enactment, and Wholesalers must be ready 5 years after enactment.
The Summit reinforced the reality that the science-led biotech industry is evolving through major innovations of people, processes and technology, where collaboration is the enabler for continued progress. Kareem Dossa of BioCision, a provider of Bio-Tools echoed the sentiments of many when he remarked, "The conference does a great job bringing together the industry professionals and exposing them to industry trends, market requirements and best practices. I found the educational tracks to be informative and helpful, especially on the clinical and cold chain topics. It was nice to reconnect with industry colleagues, friends and network with new contacts."
ABOUT BSMA
The Bio Supply Management Alliance, which organizes the Conference, was born of the need to create a worldwide community of operations and supply chain management leaders and professionals in the biotech, biopharma, and biomedical device industries. Based in the San Francisco Bay Area, home to more than 400 bio firms, the Alliance provides a forum for collaboration, learning and best practice sharing of practitioners, executives and thought leaders in these uniquely demanding industries.
Because life depends on usTM, the Bio Supply Management Alliance supports continuous learning and improvement of bio supply management professionals.