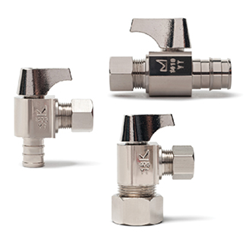 high quality, long lasting product
Kansas City, Missouri (PRWEB) June 30, 2015
Tomahawk, a division of Sioux Chief Manufacturing, introduced Quarter-Turn Supply Stops as part of its continuing effort to provide a comprehensive line of plumbing specialty products.
Tomahawk's new Quarter-Turn Stop Valves are bright nickel-plated. All materials used are No Lead, dezincification and stress corrosion cracking resistant.
The valve's reliable quarter-turn operation ensures a positive shut-off for repairs or emergency situations every time. Sold in cases of 24, each valve is individually bagged.
The quarter-turn stop valve is currently available with compression, F1807 PEX, F1960 PEX, CPVC and FIP inlets in both straight and angle patterns and is the same dependable valve body used in Sioux Chief's OxBox line of access boxes.
The F1807 PEX, F1960 PEX and compression stops are available with 1/4" or 3/8" outlets in both straight and angle patterns. Dual outlet stops will also be available in coming months.
"The Quarter-Turn Supply Stop valve is a high quality, long lasting product that utilizes a chrome-plated brass ball and PTFE seats to give the most reliable seal," said Vice-President of Sales and Marketing, Rex Baer.