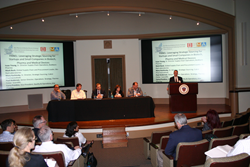 "It was a pleasure to be part of this event. Thank you for your great leadership and facilitation!" - M. Kachinsky, Senior Director, Strategic Sourcing, Cubist Pharmaceuticals
Calabasas, CA (PRWEB) July 10, 2014
Senior supply chain management executives from over 50 companies, academic institutions and professional associations, addressed the challenges of "Reducing Cost, Lead Time, & Defects in the Bio-Pharma & Medical Device Industries" through strategic sourcing. Describing the partnership of the Bio Supply Management Alliance (BSMA) with the Supply Chain Management Institute (SCMI) of the University of San Diego in organizing the event on June 24 at the Kroc Institute of Peace and Justice in San Diego, Devendra Mishra, the Executive Director of BSMA, observed, "In this inaugural event, the biopharma and medical device industries have come together to build a community of like-minded supply chain management professionals who believe in collaboration to promote best practices, knowledge sharing and networking. Strategic sourcing, a focus for the conference, remains a formidable challenge in the critical areas of R&D, clinical trials and eventual commercialization for startups to mid-sized companies in the biotech, pharma and medical device industries. BSMA is committed to serving the professional and educational needs of the San Diego region which is one of the three biotech hubs in the US and has begun planning a full-day conference in February-March of 2015."
"Implementation of innovative approaches to protecting the quality of the product to the patient and to prevent illicit acts such as counterfeiting, diversion, and economic adulteration which threaten the safety of the drug supply," is the greatest challenge facing the biotech industry and we can make a huge difference", remarked Martin Van Trieste, Senior Vice President of Quality Assurance at Amgen.
The exchange of issues and answers relating to how strategic sourcing can be leveraged by small to large companies was insightful and candid as eminent executives served on a panel. The industry leaders consisted of Isaac Young, Sr. Director Supply Chain Operations, BioMarin Pharmaceuticals; Mark Buck, Global Supply Chain and Procurement Leader, Bio-Rad Laboratories; Mary Kachinsky, Sr. Director of Strategic Sourcing, Cubist Pharmaceuticals; Paul Anderson, Sr. Director of Operations Strategy, Thermo Fisher Scientific; Prentice Curry, Vice President of Quality and Operations, Kite Pharma; and, Wayne McDonnell, Director of Advisory, PwC. The takeaways were that in the global market place, inter-dependence of trading partners in the supply chain, regulations in the emerging markets, IT systems connectivity, sustainability of the environment and safety have added challenges to achieving agility, cost reduction, quality and safety.
Key research findings on the business landscape of healthcare logistics around the world, as well as healthcare logistics executives' top concerns and strategies for expansion, were presented by Robin Hooker, Director of Global Strategy Healthcare Logistics at UPS.
There is extreme "pain in the supply chain of pharma, biotech and medical device industries but strategic and tactical solutions can be implemented", declared Hooker.
Mary Kachinsky, Senior Director of Strategic Sourcing at Cubist Pharmaceuticals shared enriching lessons in implementing a large scale information system for strategic sourcing. She was assisted by Richard Waugh, Vice President of Corporate Development at Zycus that provided the technology solution. The savings being realized through the implementation of the technology solution is fuelling the growth of the company.
The central theme of the conference was brilliantly expounded by Paul Anderson, Senior Director of Operations Strategies at Thermo Fisher Scientific with his "Short-Cut to Supply Chain Success: Adapting Large Company Best Practices to Small and Mid-sized Companies". He comprehensively articulated how small companies who don't have the same supply chain volume as the large companies can achieve some of the same benefits by leveraging other industry resources and best practices. Furthering the message was Isaac Young, Sr. Director Supply Chain Operations at BioMarin Pharmaceuticals, who provided a prescription for "Developing a Strategic Sourcing Competency for a Small Company". Myles Marcus, Senior Director, Materials and Logistics, CTI biopharma, stated that dealing with ramp up, supply chain visibility and risk avoidance are critical issues in "Contract Manufacturing Life Cycle Management" and provided a methodology for dealing with them
Dan Ambrose, Director Customer Logistics, VWR International, demonstrated how ROI from a supplier relationship can be determined to make the manufacturer-supplier relationship strategic. "Measuring value during the lifecycle of an agreement is a pathway to driving innovation and relevance to the collaborative efforts of both organizations," he emphasized in his message of continuous improvement. Doug Wettergren, Regional Sales Manager of Envirotainer, presented a research-rich report on how environmentally-controlled transportation can overcome the Achilles' heel in global sourcing.
Addressing the most critical issue facing the industry of "Producing, Growing and Retaining the Right Supply Chain Talent" was Joel Sutherland, Managing Director of the SCM Institute of the University of San Diego. He explained how SCMI has built an educational program based on collaborative relationships with industries and applied research. Richard Dawe, Director of the Operations and Supply Chain Management Program at the Golden Gate University, revealed the results of a comprehensive survey done to uncover the demands and the state of SCM talent development in the biopharma industry.
The half-day, multi-track conference concluded with Tom Heebink, Business Development & Strategic Alliances, Western Region, BIO; and, Rick Fultz, Managing Director, BIOCOM Purchasing Group; highlighting the benefits and opportunities of consortium purchasing. The attendees and sponsors of the event concluded that a nexus had been built for advancing the supply chain efficacy and patient safety.
ABOUT BSMA
The Bio Supply Management Alliance, which organizes the Conference, was born of the need to create a worldwide community of operations and supply chain management leaders and professionals in the biotech, biopharma, and biomedical device industries. Based in the San Francisco Bay Area, home to more than 400 bio firms, the Alliance provides a forum for collaboration, learning and best practice sharing of practitioners, executives and thought leaders in these uniquely demanding industries.
Because life depends on usTM, the Bio Supply Management Alliance supports continuous learning and improvement of bio supply management professionals.