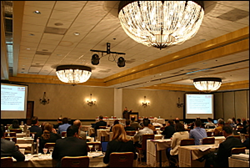 "No matter what the industry, the same types of issues and risk exist. And for that reason, there will always be a need for Supply Chain professionals!" Michael Donahue, Strategic Supplier Management, MM Operations, EMD Millipore
Calabasas, CA (PRWEB) September 06, 2014
7th Annual BSMA Conference: "Advancing Supply Chain Management in the Bio-Pharma Industry," an interactive Conference to Learn to Reduce Cost, Lead Time, Defects and Risk.
DATES: October 23-24, 2014
VENUE: Crowne Plaza Hotel, 1221 Chess Drive, Foster City, CA 94404
CLICK FOR DETAILS & SCHEDULE
CLICK TO REGISTER for CONFERENCE:
CLICK TO SHOWCASE YOUR TECHNOLOGY - SERVICE
The world's leading community of supply chain management professionals in the biopharma industry will come together on October 23-24 for the 7th annual conference of the Bio Supply Management Alliance (BSMA) in Foster City, California.
The theme of the Conference, "Advancing Supply Chain Management in the Bio-Pharma Industry", will address the challenges faced by supply chain professionals engaged in R&D, Strategic Sourcing, Clinical Supply Chain, Manufacturing and Commercialization, Distribution, Quality Assurance, Risk Management and Information Technology to reduce cost, lead time, defects and risk. Deemed to be the first interactive conference of its kind to bring together problems and solutions, the event also has tours to operations of Genentech and Bio-Rad laboratories.
SPEAKERS CONFIRMED
Alex Guillen, Director, Global Cold Chain, Fisher Clinical Services
Bill Coakley, Director, Supply Chain Planning, BioMarin
Chris Fore, Compliance Manager, Envirotainer
Christelle Laot, Life Sciences & Specialty Services, FedEx Express
Dan Ambrose, Director, Customer Logistics, VWR International
Devendra Mishra, Executive Director, BSMA
Dino Sarpa, Director Client Solutions, UTi United States Inc.
Doug Wettergren, Regional Manager, Envirotainer
Jayant Arphale, Senior Vice President, Technical Operations, Sarepta Therapeutics
Jayne Profeta, VP Pharmaceutical Industry, The Americas - Global Cool Chain Leader, UTi
Jim Latimer, Sourcing Lead, Lawrence Berkeley National Laboratories
Jim Peyton, Associate Director of Supply Chain, Gilead Sciences
Kevin Pegels, Vice President, Global Supply Chain USA, Bayer Healthcare – PS Biotech
Lisa Fuller-Howard, UPS Temperature True Product Manager, UPS
Lorna Briddick, Managing Partner, Brizzey
Mark Buck, Global Supply Chain and Procurement Leader, Bio-Rad Laboratories
Mark Swift, Comparator Program Manager, Fisher Clinical Services
Mary Kachinsky, Sr. Director, Strategic Sourcing, Cubist Pharmaceuticals
Michael Moro, Senior Manager Clinical Trial Materials, Acadia Pharmaceuticals
Mike Crowell, Sr. Director, Supply Chain Management, Verinata
Myles Marcus, Sr. Director, Materials and Logistics, CTI Biopharma
Paul Hingst, Program Director, West Coast Operations, Fisher Clinical Services
Paul Seaback, Head of Global Supply Chain, Gilead Sciences
Rayne Waller, Vice President, Global Supply Chain, Amgen
Rick Fultz, Managing Director, Purchasing, BIOCOM Group
Richard Dawe, Director, Operations and Supply Chain Management Program, Golden Gate University
Rob Welsh, Vice President, Category Management, Production Chemical Operations, VWR Int'l
Susanne Somerville, Vice President, Supply Chain, North America Region, Genentech (A Roche Company)
Tom Heebink, Business Development & Strategic Alliances, Western Region, BIO
………………………..AND MANY MORE TO BE ANNOUNCED
HIGHLIGHTS OF the CONFERENCE
Conference: Presentations by eminent executives of the biotech, pharma and medical device industries will provide Case Studies, Service and Technology Solutions, Best Practices, Research and a Platform for Issues and Answers in a Town Square to address the following critical business areas to advance the supply chain:

Establishing Supplier Relations Management: Strategic management of a portfolio of suppliers, Spend Analysis technologies and how they drive sourcing strategies, Achieving Transparency and Collaboration with Suppliers, Establishing Metrics of Performance and ROI, Transforming from Excel to Enterprise Systems and Software as a service.
Ensuring Integrity of the Global Supply Chain: Systems and Information Network, Best Processes, Supplier Audits, Risk Mitigation and Proven Methodologies
Demystifying Information Systems for Betterment and not Detriment: How complexity gives place to ease of use and flexibility
Leveraging Track and Trace for Supply Chain Optimization & Regulatory Compliance: FDA and State of CA Regulation Update, Systems and Technologies, Proven Practices
Advancing Clinical Supply Chain: Advanced Supply Chain Solutions, Operations Planning and Inventory Management, Packaging, Technologies to integrate customers with service providers, Meeting global regulatory challenges and Cost Optimization
Managing the Virtual Supply Chain for Strategic Enterprise Values: How to maximize the business value of Contract Manufacturing?
Cold Chain: Technologies, Packaging, Temperature-controlled Distribution, Qualification and Validation, Regulations and GDP, Cost Optimization, The Last Mile Considerations
Supply Chain Management Blocking & Tacking: Optimization of Cost, Lead Time, Quality, Safety and Risk; Managing Cash Flow to balance system-wide inventory with service; Development of SCM Talent Management
WHO SHOULD ATTEND?

Professionals responsible for supply chain, strategic sourcing, purchasing, forecasting and planning, clinical supplies and operations, manufacturing, warehouse operations, logistics, cold chain and risk management in the biotech, biopharma, medical devices and related industries.
Producers of healthcare products and service providers
Purchasers of those products – wholesalers, distributors and group purchasing group
Academicians and Management Consultants devoted to supply chain management of healthcare and life science
WHY PARTICIPATE?

Find practical solutions & research delivered by 60 plus speakers and panelists
Network with nearly 300 executives from over 120 companies in biopharma
Join Industry Forums to discuss and solve your business problems
Discover and Leverage technologies and services from reputed suppliers
Brand your enterprise in the biopharma industry
ABOUT BSMA
The Bio Supply Management Alliance, which organizes the Conference, was born of the need to create a worldwide community of operations and supply chain management leaders and professionals in the biotech, biopharma, and biomedical device industries. The Alliance provides a forum for collaboration, learning and best practice sharing of practitioners, executives and thought leaders in these uniquely demanding industries. Its basic premise is that collaboration among the manufacturers and their suppliers across the board will significantly increase productivity, quality and safety of drugs.
Because life depends on usTM, the Bio Supply Management Alliance supports continuous learning and improvement of bio supply management professionals.