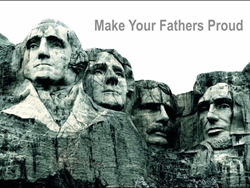 I believe it is time to restore the promise of America
Weston, Florida (PRWEB) September 01, 2014
ADL Web Development, LLC, the parent company of SupportAmericanMadeGoods.com announces the launch of a new website designed to promote American manufacturing. The website serves three main purposes: first to promote American made goods by providing choices for the consumer on where to purchase goods made in the USA, second to educate the consumer on why purchasing decisions are important to the economy, and third to raise funds through crowd sourcing to start an online store dedicated to selling premium American made products.
Visitors to the site have the opportunity to learn about the impact out-soucing jobs has had on the manufacturing industry through articles compiled from respected news sources.
Links to websites that manufacture American made goods are provided and categorized to give consumers the knowledge of where to go online to get merchandise when they want to purchase Made in the U.S.A products.
Visitors will also have an opportunity to make a difference with the ability to make an individual contribution, or purchase of an advertising banner on the "Million Dollar Banner" page, where one million pixels will be sold to companies or individuals wishing to show their support for manufacturing in the U.S.A. These revenue streams sourced from crowd funding will allow the development of an online store dedicated solely to selling products made in the U.S.A.
Anthony Westrup, co-founder, of the site, states, "in the last 20 years, the world has witnessed China become the biggest manufacturing powerhouse the world has ever known. With it has come the largest transfer of wealth the world has ever seen, and it has been the downfall of American manufacturing."
He further states, "I believe it is time to restore the promise of America. To educate people on the impact their purchases are having on the U.S. economy. To provide options on where to buy, when you want to buy American. And lasty, to ask for your individual contribution, or company purchase of banner on our million dollar banner page for the purpose of launching a company dedicated to selling products made in the U.S.A."
With that intent in mind, SupportAmericanMadeGoods is launching Labor Day, 2014.
For more information please contact:
Anthony Westrup
ADL Web Development, LLC
Co-Founder
(954) 605 4905
anthony(at)adlwebdevelopment(dot)com