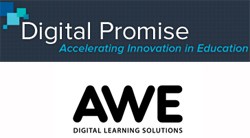 "The existence of Digital Promise shows that our country's leaders are serious about giving schools access to innovative technology tools that can enhance education for all students."
Chester, PA (PRWEB) August 01, 2013
AWE, Inc., a leader of digital learning solutions for PreK–Grade 3, announced today that it has become a corporate supporter of Digital Promise, an independent, bipartisan nonprofit organization authorized by Congress to accelerate innovation in education.
Digital Promise is a nonprofit, 501(c)(3) signed into law by President Bush in 2008 and launched in late 2011 by President Obama. It has worked to advance breakthrough technology in education through several initiatives, including fostering national research partnerships, introducing digital technology tools into school districts, and creating solutions for the technology procurement process. A key component of the organization is the League of Innovative Schools, an initiative which facilitates partnerships between a national coalition of cutting edge schools, top research institutions, and leading education technology providers to harness innovation and drive better results for students.
"We are proud to support Digital Promise and be a part of this historic time in education," says Karl Thornton, President and CEO of AWE. "The existence of this organization shows that our country's leaders are serious about giving schools access to innovative technology tools that can enhance education for all students."
"We believe our Student Learning Center™ product line represents the most complete digital learning solution available for young learners, PreK–Grade 3. The depth and breadth of our content across all subject areas, coupled with our in-depth, standards-driven progress reporting suite, enables schools to deliver personalized instruction that is as engaging and effective for students as it is easy to manage and informative for teachers and administrators."
About AWE, Inc. (http://www.awelearning.com/schools)
AWE's mission is to inspire every child to become a lifelong learner. AWE's engaging digital learning solutions are found in public libraries, schools, child care centers, and other institutions. They support multiple instructional methods (prescriptive, collaborative, and explorative) and blended learning environments, feature content spanning all curricular areas, and can be personalized for every learner.
About Digital Promise (http://www.digitalpromise.org)
Digital Promise is an independent, bipartisan 501(c)(3) nonprofit organization authorized by Congress to spur innovation in education. Through its work with educators, technologists, researchers, and leading thinkers, Digital Promise supports comprehensive research and development to improve all levels of education and provide Americans with the knowledge and skills needed to compete in the global economy. One of its flagship initiatives, the Digital Promise League of Innovative Schools, is a national coalition of public school districts committed to digital innovation that delivers results for students. The League of Innovative Schools is made up of 32 school districts and education groups in 21 states that collectively serve more than 2.5 million students.