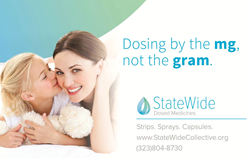 Our products are driven by the clinical care needs of patients
San Francisco, CA (PRWEB) March 28, 2015
United Patients Group, the leading medical cannabis information and educational site is proud to announce - StateWide Collective now offers cannabis suppositories. The new rectally administered cannabinoid therapy provides relief to patients who need an alternative dosing method or who suffer from a range of medical conditions, including IBS, ulcerative colitis, and certain cancers.
StateWide Collective's latest product delivers a range of measured cannabinoid dosages, giving patients and their physicians an effective alternative dosing method. The collective sold 70 suppositories the first day they became available, and immediately ordered additional stock to ensure it can keep up with patient demand.
"Our products are driven by the clinical care needs of patients, many of whom told us rectal administration of other medications they take are effective in treating their medical conditions," says John Craig, StateWide Collective Patient Liaison.
StateWide Collective's cocoa-butter-based suppositories are available in 1mg syringes with a choice of 1:1 and 20:1 CBD:THC ratios. Each suppository contains 20 mg of CBD and the corresponding ratio of THC, the same dosage StateWide Collective has found effective in many of their other products.
Suppository proponents point out that many chronically and gravely ill patients have either lost the ability to swallow or have difficulty swallowing as their salivary glands have been severely impaired by radiation. Suppository administration offers an additional option for those who would like to explore cannabis as a complimentary treatment.
The efficiency of rectally administered cannabis medications was the subject of a recent discussion on the United Patient Group blog, which can be found here. This topic is a continued discussion, as additional research is needed.
"We applaud StateWide Collective's efforts in creating a variety of products containing measured doses of active ingredients, which makes cannabis medicine more effective and accessible to more patients," explains John Malanca, founder of United Patients Group. "For patients, especially those who cannot tolerate inhalants or oral administration, rectal administration may offer relief for their specific medical condition."
For more information about cannabinoid therapies, go to http://www.UnitedPatientsGroup.com.
About United Patients Group:
United Patients Group is the leading medical cannabis information and educational site that is dedicated to providing the most professional and safe resource for Medical Cannabis information.
Physicians can now learn about Medical Cannabis through their online CME courses in Cannabinoid Therapeutics.
While most online medical cannabis sites cater to patients already familiar with medical cannabis, the UnitedPatientsGroup.com website is a comprehensive and easy-to-use information source for people of all ages and experience levels, from novice users to experienced industry professionals. The site's News, Resource, and Blog pages introduce new patients to the ins and outs of medical cannabis healthcare, while helping experienced providers stay abreast of the latest developments in THC and CBD therapies.
A complimentary five-star-rated United Patients Group medical cannabis app is available on the iTunes app store for iPhone 3GS, iPhone 4, iPhone 4S, iPhone 5, iPod touch (3rd generation), iPod touch (4th generation), and any iPad.
About StateWide Collective:
StateWide Collective's chemists, specialists in genetics, and physicians and other healthcare professionals work together to provide affordable cannabis medications in measured dosages. StateWide CBD and THC dosed formulations are made from organically grown cannabis, using Super Critical CO2 gas extraction.
For more information, call (323) 804-8730 or go to http://www.StateWideCollective.org.