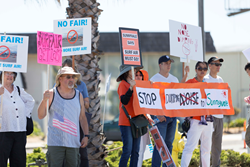 Surf Air Fly Pilatus PC-12 aircraft and are flying less than 1000 ft over our homes and generating more noise than a Boeing 747.
San Carlos, California (PRWEB) June 21, 2017
Residents from Bay Area cities attended a protest at San Carlos Airport (KSQL) to voice their concerns about the increasing noise pollution and safety issues generated by commercial airline Surf Air. The protest, organized by residents of San Francisco Bay Area cities located under the flight path, is the result of frustrated residents who cite the lack of actions from San Mateo County Supervisor Don Horsley on the Surf Air noise problem.
"We want Surf Air and the County to know that they need to do more to eliminate the noise over our homes," said Joe Straton, resident of North Fair Oaks in Menlo Park. "They now have 20 arrivals and 20 departures most weekdays with Pilatus PC-12 aircraft flying less than 1000 ft over our homes and generating more noise than a Boeing 747."
Recently Surf Air sent its customers an email announcing they will add 12 new flights into San Carlos airport which would result in 32 arrivals each day, and which will significantly add to the daily noise footprint they create while in flight and on the ground at the airport. The protest today is the result of residents who are unhappy with the lack of solutions that County and City officials have initiated to stop the flights and the noise.
The protest attracted residents that live near the airport including Redwood City, San Carlos, Redwood Shores, Menlo Park, Atherton, and Palo Alto. Recently, the increase in Surf Air flights has alarmed residents in Mountain View, Sunnyvale and Cupertino who also attended the protest. Loud chants and signs held by protesters attracted the attention of drivers on the busy 101 freeway who slowed to a crawl and honked horns to lend their support to the protestors.
"We've attempted to work with two previous senior management teams at Surf Air, the most recent which left or were fired," said Gwen Books, Calm the Skies Founder and resident of Menlo Park. "There have been countless meetings over the years with Surf Air, the airport, the FAA, and elected officials. In the past four years, the results of those meetings have created a worsening noise problem. The latest management team appears to support expansion of flights and is not working with our communities to fix the problem."
Community meetings sponsored by City and County officials, and attended by hundreds of residents, have been raucous and contentious as residents have loudly voiced their displeasure regarding Surf Air using the San Carlos airport. Most feel that KSQL should not be used for high-frequency commercial flights like those that Surf Air bring to the airport. The increased noise, safety, and impacted property prices are key reasons that have been voiced to stop Surf Air from using San Carlos airport.
"The San Mateo County Board of Supervisors have a duty to reduce noise from their County owned airport. Noise policies are in place for all noise, but aircraft noise is trickier since it can involve the FAA. The County says they have a solution that would comply with Federal laws but have done nothing to implement that solution," said Adam Ullman, resident of North Fair Oaks in Menlo Park. "It's been a very frustrating experience working with San Mateo County Supervisors and their legal staff who continue to spend time and effort on studies, but have done little to implement solutions that could provide immediate relief."
"Residents of our communities are asking how a high-volume passenger airline has been allowed to operate at a small county owned general aviation airport," said Aidan Yeaw, a resident of Menlo Park and organizer of the protest. "The Surf Air operation is inconsistent with the public's expectations of San Carlos Airport and we want the County to address this immediately."
A recent survey conducted by San Mateo County titled "San Carlos Airport Community Survey," determined that residents want the County to do more about aircraft noise:

72.9% of the respondents consider "Airport noise or airport disturbances" a "somewhat to extremely important" issue facing the community.
69.6% of respondents disagree that "the Airport should have no limitations and operations should be allowed to accommodate all flights into or out of the area."
In addition, complaints to the airport noise hotline have increased significantly since Surf Air started flying into San Carlos Airport in 2013.
Calm The Skies group was formed four years ago after Surf Air began operations into San Carlos Airport with three flights per day. Residents around the airport and under the flight paths noticed the increase in noise generated by the Pilatus PC-12 aircraft operated by Surf Air. They began their mission to stop the noise over their neighborhoods by enlisting the help of elected city officials, and rallying the residents of the affected communities. Over 1,100 signatures have been added to a petition at change.org.
Resources:
San Carlos Community Survey: http://publicworks.smcgov.org/sites/publicworks.smcgov.org/files/documents/files/San%20Carlos%20Airport%20Mail%20Survey%20FINAL.pdf
Calm the Skies website: http://www.calmtheskies.org
Change.org petition: https://www.change.org/p/surf-air-inc-stop-or-reroute-surf-air-flights-that-are-using-ksql-san-carlos-airport
Download Photo, Video, Noise Data: https://drive.google.com/drive/folders/0B5W5g5AbuKureVpkT0h4Zm9UNjg?usp=sharing