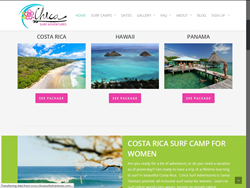 Our women's surf camp is the ultimate surf vacation. Chica Surf Adventures is located on the Pacific coast of Costa Rica, on the southern tip of the Nicoya Peninsula.
(PRWEB) April 07, 2015
Chica Surf Adventures strives to share the love of the ocean, travel, and friendships among women of all ages. Women are sure to have an incredible experience of a lifetime in their surf camps where they surf together, laugh together, and formulate new lifelong friendships. Chica Surf Adventures announces camp dates for the month of April, starting from April 19 to 26, 2015 in Costa Rica. Costa Rica is known for its picture-perfect coast lines and fresh seascape that rejuvenates the tired body and dispirited soul.
One of the executives of Chica Surf Adventures stated, "Our women's surf camp is the ultimate surf vacation. Chica Surf Adventures is located on the Pacific coast of Costa Rica, on the southern tip of the Nicoya Peninsula. The adventurous surf retreats are hosted in breathtaking beach town of Santa Teresa. This community is bounded by tropical rain forests and beautiful never ending beaches. People from all over the world hog on to this popular surf destination, and you'll end up hatching new relationships. We will be positioned in Mal Pais, Playa, Carmen and Playa Hermosa where we indulge in diverse activities at the beach."
Chica Surf Adventures offers plethora of activities including surf lessons, tropical massage, zip line and waterfall tour and much more in Costa Rica. In addition to this, they also provide great accommodation and mouthwatering and delicious delicacies that will surely scintillate the taste buds. They have professional certified instructors who will guide beginners at every step. The lessons are designed for all levels of surfing, beginner through advanced. Chica Surf Adventures offers unique beauty of adding yoga classes to a surf retreat, giving people the opportunity to stretch and condition the muscles while working throughout the weak. Their surf camp package also includes a tropical full body massage at the Yoga Natural Spa in Playa Carmen.
The executive further quoted, "We ensure that our women surfers are taken care of properly and provide them leading lodging options. Our women's surf camp is hosted at the Funky monkey Lodge in Santa Teresa. Funky Monkey Lodge is a beautiful rustic privately owned hotel, with individual bungalows, a swimming pool for you to enjoy and a central restaurant where we gather for meals. Our gourmet chef ensures that you savour the delicacies of Costa Rica."
Apart from the surf and yoga retreat in Costa Rica, Chica Surf Adventures also offers surf camps at Hawaii and Panama. From the day one till the end of the camp, they give women a chance to be free spirited and have an amazing time. Their surf escapades provide them the much needed vacations and opportunity to de-stress. Women looking for Costa Rica women surf camps can browse through their website for more details and find the next date to sign up!
About Chica Surf Adventures:
Chica Surf Adventures was founded by Amanda. They are a leading surf camp for women and host surf camps and surf retreats in Costa Rica, Hawaii and Panama. Their surf camps are designed for the beginner surfer as well as the advanced surfer, adventure seeker, solo traveler and yoga lover alike. This unique surf camp for women in Costa Rica takes care of all the requirements of their women surfers and ensures to make their experience a memorable one.
Contact Information:
Chica Surf Adventures
Phone: (310) 614-0159
Email: ChicaSurfAdventures(at)gmail(dot)com
###