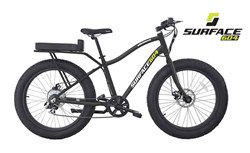 With the Element Wide Grip Electric fat bike you can ride places you never though possible.
Vancouver (PRWEB) February 18, 2014
Hot trends collided on February 15th, 2014 with the launch of Surface604.com, and a new electric fat bike.
The future hybrid, or favorite all terrain sports vehicle may not be a car at all, but an electric powered fat bike. Lithium batteries are now powering Elon Musk's Tesla Motors, and according to Bloomberg, actor Leonardo DiCaprio's new pastime – funding a Formula E race team.
However, according to a 2010 MIT study e-bikes are still 18 times more energy efficient than an SUV, and 6 times more efficient than rail, equating their environmental impact at the same as a regular bicycle. Pike Research predicts global e-bike sales to hit almost 500 million by 2016.
At the same time fat bikes have emerged from being a closely guarded secret in Alaska to a practical way to get around and a popular adventure sport. Google Trends reports interest in 'fat bikes' doubled in the 12 months to January 2014.
Enter the new Surface604 which equips an awesome looking fat bike with power on demand. A quick look at the rugged and trendy Surface 604 fat bike delivers a vision of strength, excitement and sheer awe. Even for extreme sports fans one glance at these machines says an exciting adventure is to be had.
This 'Tesla' or 'Boss' of bikes promises to take riders through snow, sand and over mountains with relative ease for a truly all terrain biking experience. Though they're just modest enough to use for getting around every day and for ruling the block on the weekend.
According to Surface 604's founder and COO, John Dem, who together with his team brings over 25 years of combined experience in power-sports, engineering and design to this new venture the inspiration for an electric powered fat bike came from the beautiful natural surroundings of Vancouver, British Columbia.
He says "We love our unique province; a place where you can visit a beach with palm trees, then head up to a snow covered mountain, then to beautiful forest trails, all within close proximity. We wanted to create a vehicle that would allow us to explore all that it offers, while at the same time preserving the environment for us and for future generations to enjoy."
Surface 604 all-terrain fat bikes are now available on the newly launched, visually stunning e-commerce website https://www.surface604.com from where riders can find it easy to connect to others and share their thrilling experiences on Pinterest, Facebook and Instagram. Showcasing large, beautiful images of the products along with simple meaningful information, the online store will work equally well on mobile devices, tablets or a desktop. Bitcoins accepted.
About Surface 604:
Surface604 was founded in beautiful and clean Vancouver, British Columbia, and named after the area code of this city. The company has designed and created the awe-inspiring bike frame and wide-grip tires, with a sleek lithium-ion power source at the back. Surface 604 follow in the footsteps of inspiring Vancouver based brands that have set the benchmark for social responsibility and environmental initiatives. Lush Cosmetics, Happy Planet Foods and Lululemon Athletica, just to mention a few.