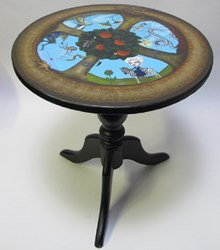 The blend of regional subject matter along with her surrealist work is nothing short of breath taking
Eastern Shore, DE (PRWEB) October 30, 2013
Norb and Marie Novocin, owners of Estate Auctions, Inc. are proud to feature the works of up and coming Eastern Shore artist Cassie Walker. Beginning Monday, October 28 there will be a spectacular selection of her original artwork available on eBay with the bids starting at only 99 cents.
"We are thrilled to be able to offer these amazing pieces by Cassie Walker. When we originally discovered her work in our area we were presently surprised and impressed. The blend of regional subject matter along with her surrealist work is nothing short of breathtaking. To be able to offer the work of such a premier local talent to the world is extremely gratifying. We definitely expect the value of her works to rise as the demand continues to increase", says Norb Novocin, owner of Estate Auctions, Inc.
The works of Cassie Walker are very diverse in style and subject matter. Estate Auctions Inc will be featuring nine different pieces. One of the works is a Pop Surrealism On Wood Table titled: Four Seasons. The bidding ends the evening of Thursday, November 7th.
About Cassie Walker
Cassie Lawn Walker, a contemporary American artist, was born in 1970. Her first motivations to draw came from her mother, who often made sketches of the family horses on the farm where they lived. By 2003, she began showing regularly throughout her home state. In 2006, Walker was awarded the Emerging Artist Fellowship from the Delaware Division of the Arts and received an honorable mention in 2011. In that time period she was granted two solo shows at the Division's Mezzanine Gallery in Wilmington. The most recent show was held in August of 2012.
Walker has experimented with many different styles from abstract expressionism, to rural scenes with a Van Gogh-like edging, to pop surrealism -- working in pencil, watercolor crayon, brushed on acrylic, and oils with some palette knife application.
About Estate Auctions Inc
To learn more about the Novocin's and Estate Auctions, Inc., visit them on eBay, user ID EstateAuctionsInc or find them on Facebook.com/EstateAuctions. For consigning information, call 800-573-3508. You can find their new book Getting Sold On Ebay, A Treasure Hunters Guide To Making Money on eBay or Amazon.